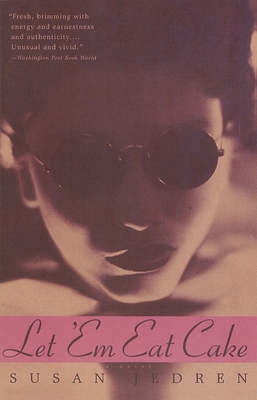 Let 'em Eat Cake (Paperback)
Vintage, 9780679768050, 368pp.
Publication Date: August 8, 1998
Description
  When the heat in Brooklyn climbs to a hundred, there's only one thing worse than being a delivery man for HomeMade Cakes.  It's being a delivery woman for Homemade.  Because Anna, the feisty heroine of this earthy and irreverent novel, has to put up with things that her male co-workers can't imagine, from a boss who despises women to storekeepers who feel her up when they aren't trying to rip her off for the price of a carton of Chocos.
   As realized by Susan Jerden, Anna is a true representative of blue-collar, no-glitz New York, a valiant single mother, whose attempts to keep her head above water—and her dignity intact—are both hilarious and uplifting. Let 'Em Eat Cake is a novel for anyone who has ever worked at a demeaning job and dreamed of dancing on the merchandise, a book as real as a corner bodega and as refreshing as an open hydrant  in the middle of a scolding summer.
About the Author
Susan Jedren, a former Teamster, drove and delivered snack cakes in New York City. Following that she attended the Columbia MFA Writing Program.
Praise For Let 'em Eat Cake…
  "Fresh, brimming with energy and earnestness and authenticity... Unusual and vivid."- Washington Post Book World

"Jerden's knack for description... makes the novel breathe with life.... From the first chapter, [her] words ring with realism and honesty, tumbling over themselves to confess dreams that aren't recognized and moments that tend to be forgotten."- San Francisco Chronicle

"Jerden flexes the taut muscles of her raw and compelling literary voice."- Entertainment Weekly

"Swashbuckling."- The New York Times Book Review
Advertisement