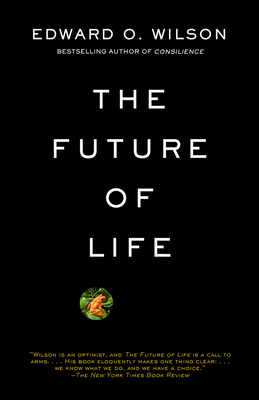 The Future of Life
Paperback

* Individual store prices may vary.
Other Editions of This Title:
Hardcover, Chinese (5/1/2016)
Description
One of the world's most important scientists, Edward O. Wilson is also an abundantly talented writer who has twice won the Pulitzer Prize. In this, his most personal and timely book to date, he assesses the precarious state of our environment, examining the mass extinctions occurring in our time and the natural treasures we are about to lose forever. Yet, rather than eschewing doomsday prophesies, he spells out a specific plan to save our world while there is still time. His vision is a hopeful one, as economically sound as it is environmentally necessary. Eloquent, practical and wise, this book should be read and studied by anyone concerned with the fate of the natural world.
Praise For The Future of Life…
"Wilson, perhaps our greatest living scientist . . . offers the most powerful indictment yet of humanity as destroyer." —San Francisco Chronicle Observer

"His book eloquently makes one thing clear: . . . we know what we do, and we have a choice." —The New York Times Book Review

"The Future of Life makes it clear once again that Wilson is one of our most gifted science writers." —The Washington Post

"[An] elegant manifesto. . . . [A] nuanced and evocative explanation of just why biodiversity matters." —The New Yorker

"Wilson writes with a magisterial tone. . . . The Future of Life is the work of a man with deep convictions who is also utterly reasonable." —Bill McKibben, The Boston Globe

"Wilson is a member of an important but very rare species: the world-class scientist who is also a great writer." —Nature 

"A critical report card for planet Earth, an urgent manifesto on global action, an eloquent plea . . . A literate, even poetic recounting of current scientific information that is readily accessible to lay readers. A more engaging and persuasive single volume on this crucial subject is difficult to imagine." —Seattle Post-Intelligencer

"A no-nonsense appraisal of the problem of species extinctions and a pragmatic road map for renewal. . . . The Future of Life takes the reader on a fascinating and ultimately hopeful journey." —San Jose Mercury News

"Our contemporary Thoreau, Wilson elegantly and insistently makes the case that to choose biodiversity is to choose survival." —Atlanta Journal-Constitution

"Wilson knows his subject too well. It behooves the rest of us to listen." —San Diego Union Tribune

"One of the most clear-eyed pictures of how bad things have gotten." —Minneapolis Star-Tribune

"The Future of Life offers an encouraging vision that solutions to the environmental problems facing humanity are within reach. . . . A refreshing change from the doom-and-gloom rhetoric that marked much environmentalism in the past." —American Scientist

"A landmark new book." —Houston Chronicle

"The biosphere's Paul Revere defines the incalculable value and fragility of 'the totality of life.'" —Outside

"A short book of breathtaking scope. . . . Wilson brings genuine authority to these weighty pronouncements." —New York Observer

"[A] readable gem. . . . Wilson manages to avoid dark gloom while still cataloguing the damage we have wrought." —Toronto Star

"Takes the reader on a fascinating and ultimately hopeful journey. . . . A concise primer remarkable in its breadth and clarity." —Austin American-Statesman




Vintage, 9780679768111, 256pp.
Publication Date: March 11, 2003
About the Author
Edward O. Wilson was born in Birmingham, Alabama in 1929. He is the author of two Pulitzer Prize-winning books, On Human Nature (1978) and The Ants (1990, with Bert Hölldobler), as well as many other groundbreaking works, including Consilience, Naturalist, and Sociobiology. A recipient of many of the world's leading prizes in science and conservation, he is currently Pellegrino University Research Professor and Honorary Curator in Entomology of the Museum of Comparative Zoology at Harvard University. He lives in Lexington, Massachusetts, with his wife, Renee.