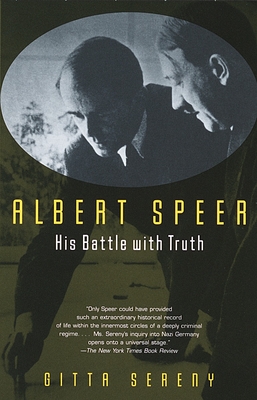 Albert Speer: His Battle with Truth (Paperback)
His Battle with Truth
Vintage, 9780679768128, 800pp.
Publication Date: October 29, 1996
Description
Albert Speer was not only Hitler's architect and armaments minister, but the Fuhrer's closest friend--his "unhappy love." Speer was one of the few defendants at the Nuremberg Trials to take responsibility for Nazi war crimes, even as he denied knowledge of the Holocaust. Now this enigma of a man is unveiled in a monumental biography by a writer who came to know Speer intimately in his final years. Out of hundreds of hours of interviews, Sereny unravels the threads of Speer's personality: the genius that made him indispensable to the German war machine, the conscience that drove him to repent, and the emotional wounds that made him susceptible to Hitler's lethal magnetism. Read as an inside account of the Third Reich, or as a revelatory unsparing yet compassionate study of the human capacity for evil, Albert Speer: His Battle with Truth is a triumph.
"Fascinating...Not only a major addition to our knowledge of the Third Reich, but a stunning attempt to understand the nature of good and evil."--Newsday "More than a biography...It also constitutes a perceptive re-examination of the mysterious appeal of Adolf Hitler."--San Francisco Chronicle.
About the Author
Gitta Sereny was one of Europe's foremost journalists with a special interest and expertise in the Third Reich. She has written extensively for London's Daily Telegraph magazine, the Sunday Times, and the Independent, as well as for Die Zeit and Le Nouvel Observateur. In America, she has written for the New York Times Magazine, the New York Review of Books, and Vanity Fair. Her books include Into Darkness: An Examination of Conscience, The Invisible Children, and Albert Speer: His Battle with Truth. She had two children and two grandchildren and lived with her husband, the photographer Don Honeyman, in London. She died in 2012.
Advertisement