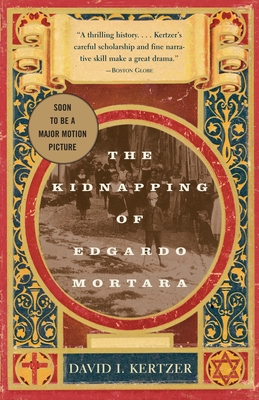 The Kidnapping of Edgardo Mortara
Paperback

* Individual store prices may vary.
Other Editions of This Title:
Digital Audiobook (9/5/2016)
Description
Soon to be a major motion picture from Steven Spielberg. 

A National Book Award Finalist

The extraordinary story of how the vatican's imprisonment of a six-year-old Jewish boy in 1858 helped to bring about the collapse of the popes' worldly power in Italy.

Bologna: nightfall, June 1858. A knock sounds at the door of the Jewish merchant Momolo Mortara. Two officers of the Inquisition bust inside and seize Mortara's six-year-old son, Edgardo. As the boy is wrenched from his father's arms, his mother collapses.  The reason for his abduction: the boy had been secretly "baptized" by a family servant.  According to papal law, the child is therefore a Catholic who can be taken from his family and delivered to a special monastery where his conversion will be completed. 
   With this terrifying scene, prize-winning historian David I. Kertzer begins the true story of how one boy's kidnapping became a pivotal event in the collapse of the Vatican as a secular power.  The book evokes the anguish of a modest merchant's family, the rhythms of daily life in a Jewish ghetto, and also explores, through the revolutionary campaigns of Mazzini and Garibaldi and such personages as Napoleon III, the emergence of Italy as a modern national state.  Moving and informative, the Kidnapping of Edgardo Mortara reads as both a historical thriller and an authoritative analysis of how a single human tragedy changed the course of history.
Praise For The Kidnapping of Edgardo Mortara…
"A thrilling history... Kertzer's careful scholarship and fine narrative skill make a great drama." --Boston Globe

"A lucidly drawn, dramatic narrative.  Kertzer's account reads like a courtroom drama. As shapely and surprising as fiction." --Newsday

"Brilliant... a book that has all the merits of a historical thriller." --Daily News

"Fascinating... full of rich material.... Kertzer has unearthed an evocative and unjustly forgotten episode of history." --The Washington Post Book World 

"A gripping, vivid and well-documented rendering. A highly readable work that is dramatic, moving and informative, as interesting to general readers as it will no doubt prove to historians." --San Francisco Chronicle 

"David Kertzer tells a riveting take, with great mastery of the sources." --The New York Review of Books 

"David Kertzer's account of this extraordinary but largely forgotten moment in history is told with verve. Sounding much like a conventuonal thriller writer, Kertzer combines a gripping yarn with a details historical reconstruction." --Financial Times 

"A spellbinding and intelligent book. The story itself isutterly compelling, but is entirely Kertser's skill as a historian and a writer that allows him to maintain the suspense.... Deftly constructed." --Toronto Globe and Mail 

"I read the book, all of it, cover to cover, nonstop, gasping, amazed. What an important and spectacular work! (With the narrative pace of a gripping novel.) One of the most impressive reading nights of my life." --Cynthia Ozick

"A scrupulously researched, elegantly written narrative that deftly combines the take of one family's anguished and fruitless efforts to reclaim their child and the stirring saga of the Risorgimento." --The Jerusalem Report 
Vintage, 9780679768173, 368pp.
Publication Date: June 30, 1998
About the Author
David I. Kertzer is the Paul Dupee, Jr. University Professor of Social Science and professor of anthropology and Italian studies at Brown University, where he served as provost from 2006 to 2011. He is the author of nine books, including The Popes Against the Jews, which was a finalist for the Mark Lynton History Prize, and The Kidnapping of Edgardo Mortara, which was a finalist for the National Book Award. He has twice been awarded the Marraro Prize from the Society for Italian Historical Studies for the best work on Italian history. He and his wife, Susan, live in Providence, Rhode Island.