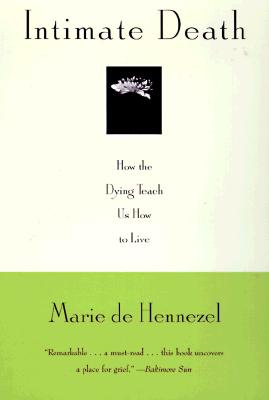 Intimate Death (Paperback)
How the Dying Teach Us How to Live
Vintage, 9780679768593, 208pp.
Publication Date: April 28, 1998
* Individual store prices may vary.
Description
How do we learn to die? Most of us spend our lives avoiding that question, but this luminous book--a major best-seller in France--answers it with a directness and eloquence that are nothing less than transforming. As a psychologist in a hospital for the terminally ill in Paris, Marie de Hennezel has spent seven years tending to people who are relinquishing their hold on life. She tells the stories of her patients and their families. de Hennezel teaches us how to turn death--our loved ones' or our own--from something lonely and agonizing into a sacred passage. She discusses the importance of an honest reckoning, the value of ritual, the necessity of touch. In imparting these lessons, Intimate Death becomes a guide to living more fully, more intensely, than we had thought possible.



"Unique...Of all the books I have read about the endings of our lives, this elegiac testimony has taught me the most."--Sherwin B. Nuland, M.D., author of How We Die


"The quiet, obvious truths [de Hennezel] discovers in her work--these things have a kind of cumulative power."--Washington Post Book World
About the Author
Marie de Hennezel was born in France in 1946. She started her career as a psychologist working with women in distress and with cases of advanced psychosis. In 1987, she joined the staff of the first palliative care unit in a Paris hospital for people with terminal illnesses, where she gathered the experiences she describes in this book. She founded the Bernard Dutant Association: AIDS and Re-Empowerment in 1990, in memory of a friend who died of AIDS, and gives lectures on approaching the end of life and seminars on accompanying the dying. She lives in Paris with her husband and children.
Praise For Intimate Death: How the Dying Teach Us How to Live…
"Unique... Of all the books I have read about the endings of our lives, this elegiac testimony has taught me the most." - Sherwin B. Nuland, M.D., author of How We Die

"This book is a lesson in life.  The light it sheds is more intense than any mere knowledge could provide." -President Francois Mitterand

"The quiet, obvious truth [de Hennezel] discovers in her work—these things have a kind of cumulative power."- Washington Post Book World
or
Not Currently Available for Direct Purchase