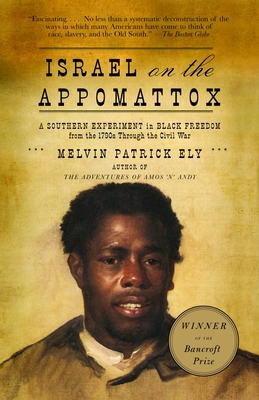 Israel on the Appomattox (Paperback)
A Southern Experiment in Black Freedom from the 1790s Through the Civil War
Vintage, 9780679768722, 656pp.
Publication Date: August 16, 2005
* Individual store prices may vary.
Description
WINNER OF THE BANCROFT PRIZEA New York Times Book Review and Atlantic Monthly Editors' ChoiceThomas Jefferson denied that whites and freed blacks could live together in harmony. His cousin, Richard Randolph, not only disagreed, but made it possible for ninety African Americans to prove Jefferson wrong. Israel on the Appomattox tells the story of these liberated blacks and the community they formed, called Israel Hill, in Prince Edward County, Virginia. There, ex-slaves established farms, navigated the Appomattox River, and became entrepreneurs. Free blacks and whites did business with one another, sued each other, worked side by side for equal wages, joined forces to found a Baptist congregation, moved west together, and occasionally settled down as man and wife. Slavery cast its grim shadow, even over the lives of the free, yet on Israel Hill we discover a moving story of hardship and hope that defies our expectations of the Old South.
About the Author
Melvin Patrick Ely, a native of Richmond, Virginia, took undergraduate and graduate degrees in history at Princeton University, studied linguistics at the University of Texas at Austin, and served as a postdoctoral fellow at the Carter G. Woodson Institute for African-American and African Studies, University of Virginia. He has taught in public high schools in Virginia and Massachusetts, at Yale University, and at the Hebrew University of Jerusalem. Since 1995 he has taught at the College of William and Mary, where he is currently Newton Family Professor of History and Black Studies. He is the author of The Adventures of Amos 'n' Andy: A Social History of an American Phenomenon, and co-translator, with Naama Zahavi-Ely, of The Handicap Principle: A Missing Piece of Darwin's Puzzle, by Amotz and Avishag Zahavi.
Praise For Israel on the Appomattox: A Southern Experiment in Black Freedom from the 1790s Through the Civil War…
"Fascinating . . . . No less than a systematic deconstruction of the ways in which many Americans have come to think of race, slavery, and the Old South." –The Boston Globe

"Fascinating . . . . Ely's story is so rich and compelling–and so persuasively documented–that it is sure to leave its mark on Southern history for years to come." –The Washington Post Book World
"Israel on the Appomattox [is one of] the first works that attempt to describe with precision the texture of day-to-day interaction across the color line. . . . A remarkably rich story." –Atlantic Monthly
"[An] absorbing story . . . . The value of this book lies in the many stereotypes the author has debunked." –St. Louis Post-Dispatch
"Previous historians have described the limits of free blacks' freedom. But none has examined the quality of their lives in the detail or with the sophistication of Melvin Patrick Ely in Israel on the Appomattox . . . . A striking portrait . . . . Ely hopes to shift the emphasis in the study of free blacks from disempowerment to accomplishment, and he goes a long way toward reaching this goal." –Los Angeles Times
"A remarkable civics lesson in hope, strength, endurance and quiet courage that most will find important and uplifting." –Rocky Mountain News
"Compelling, well-written, and thoroughly researched. The author knows Israel Hill and Prince Edward County inside and out, and his study is clearly a labor of love. . . . [Ely] challenges many of our assumptions concerning white and black Southern life in the antebellum period." –Civil War Book Review
"Ely brings to life the black personages who demonstrated that self-determination was possible in the South prior to the Civil War . . . . A rare slice of history recounted by an uncommonly fastidious historian who is as passionate about the Hill as he is about the Israelites who dwelled there." –Black Issues Book Review
"[Ely] explores as few others have done the meaning of independence, of the metaphor of a river in America, and the role of faith and brotherly love." –Decatur Daily
"An astonishing act of historical research and imagination. Ely has given us the fullest and most humane account we have ever had of free black people." –Edward L. Ayers, author of In the Presence of Mine Enemies: War in the Heart of America, 1859-1863
"Israel on the Appomattox recovers a fascinating biracial world–right in the middle of the slave-based Old South. . . . The book shows whites, enslaved blacks, and, most especially, freed blacks working, living, trading, competing, cooperating, fighting, and (at least occasionally) loving together, in and around a special little place called by the freedpeople Israel Hill. The story stretches from the Virginia of Thomas Jefferson to the Virginia of Appomattox Court House. And it is extraordinary–inspiring and heartbreaking by turns." –John Demos, author of The Unredeemed Captive: A Family Story from Early America
"This remarkable account . . . is rich with new insights on the dimensions of bondage and freedom in the slave South. The author's meticulous research and elegant writing make the experience of reading it both a reward and a pleasure." –James M. McPherson, author of Battle Cry of Freedom
"Israel on the Appomattox is a surprising and often heartening story of human struggle, personal dignity and complex interracial cooperation in the deep shadow of slavery. It upends traditional assumptions about race in the Old South and, in so doing, poses striking possibilities for America's future." –James Oliver Horton, co-author of Slavery and the Making of America
"The book unfolds as a revelation, and it contributes profoundly to the revision of our understanding of African American life in the nineteenth century." –Michael Kammen, author of American Culture, American Tastes
"Melvin Patrick Ely previously wrote a wonderfully original and significant book on the popular radio and television series Amos 'n' Andy that upset a number of facile assumptions. He has now done exactly the same for Israel Hill . . . . Once again we are indebted to him for enabling us to take a deeper look at aspects of our past and our culture we thought we fully understood." –Lawrence W. Levine, author of Black Culture and Black Consciousness
"A path-breaking analysis of antebellum Virginia, Ely's superbly documented discussion of race relations is seminal and destined for controversy." –Gerald Jaynes, author of Branches Without Roots: The Genesis of the Black Working Class