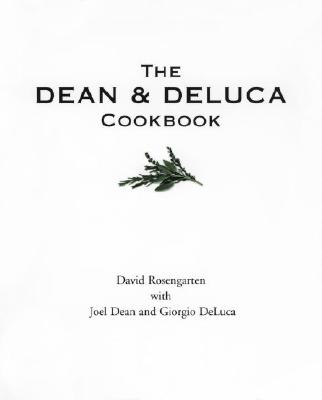 The Dean and DeLuca Cookbook (Paperback)
Random House, 9780679770039, 576pp.
Publication Date: October 8, 1996
Description
With multimillion-dollar shops in New York and Washington and coffee bars everywhere, Dean & DeLuca has dominated the movement to upgrade the American palate and is now a household name for top-notch ingredients and culinary style. Dean & DeLuca's 400 recipes draw upon the world's greatest cuisines to provide a cookbook for quality and health-conscious cooks. Line drawings.
About the Author
David Rosengarten is the host of Taste, on the TV Food Network, one of four James Beard Award nominees in 1996 for the best national TV cooking show of the year. The New York Times remarked that with Taste Rosengarten "reconceived the idea of what a cooking show could be. . . . He explores his subjects so thoughtfully that he makes instant experts of his viewers." He has contributed hundreds of recipes to many publications over the last fifteen years, including The New York Times, Food & Wine, and Bon Appetit. His restaurant column, "Specialities de la Maison--New York," appears every month in Gourmet magazine. Joel Dean and Giorgio DeLuca co-founded Dean & Deluca in 1977 and continue to oversee their expanding empire. From the Hardcover edition.
Advertisement