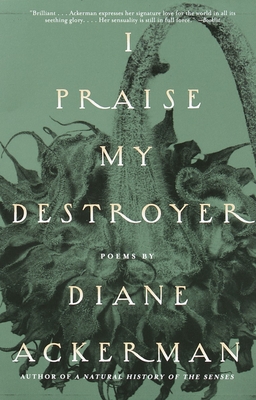 I Praise My Destroyer (Paperback)
Poems
Vintage, 9780679771340, 128pp.
Publication Date: August 22, 2000
* Individual store prices may vary.
Description
In her first new book of poetry since Jaguar of Sweet Laughter, poet and naturalist Diane Ackerman combines her deep understanding of the world with her immense passion for language to craft richly sensual poems that "honor all life/wherever and in whatever form/it may deal."

Imbued with ravishing imagery, these exuberant and lyrical explorations of aging, longing, and death demonstrate Ackerman's full engagement with every aspect of life's process. Ackerman muses on the confines of therapy sessions, where she intersects "twice a week/in a painstaking hide-and-seek/making do with half-light, half-speak"; relishes the succulent pleasure of eating an apricot, with its "gush of taboo sweetness"; and imagines the "unupholstered voice, a life in outline" in her stunning elegy to C. S. Lewis. Whimsical, organic, and wise, the poems in I Praise My Destroyer affirm Ackerman's place as one of the most enchanting poets writing today.
About the Author
Diane Ackerman lives in upstate New york.
Praise For I Praise My Destroyer: Poems…
"Brilliant . . . Ackerman expresses her signature love for the world in all its seething glory. . . . Her sensuality is still in full force."  --Booklist

"[These poems are] full of physical participation in the world, human involvement, and (as one might expect of this scholar of the senses) an eloquent eye."  --Richard Wilbur

"Vivid, playful, abundant, these poems constitute a directory of colors, an assembly of weathers, waters, creatures, and a bold, brash, invincible vote of confidence."  --Anthony Hecht

"[Ackerman's] poems express a sense of sheer joy in physical existence, which she explores in language that has its own intense life. The book is a pure pleasure."  --Louis Simpson