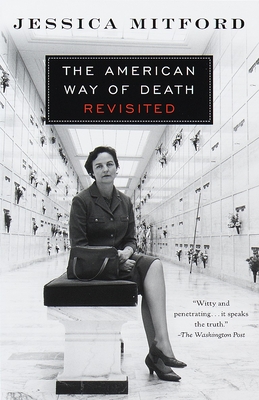 The American Way of Death Revisited
Paperback

* Individual store prices may vary.
Description
Only the scathing wit and searching intelligence of Jessica Mitford could turn an exposé of the American funeral industry into a book that is at once deadly serious and side-splittingly funny. When first published in 1963, this landmark of investigative journalism became a runaway bestseller and resulted in legislation to protect grieving families from the unscrupulous sales practices of those in "the dismal trade."

Just before her death in 1996, Mitford thoroughly revised and updated her classic study. The American Way of Death Revisited confronts new trends, including the success of the profession's lobbyists in Washington, inflated cremation costs, the telemarketing of pay-in-advance graves, and the effects of monopolies in a death-care industry now dominated by multinational corporations. With its hard-nosed consumer activism and a satiric vision out of Evelyn Waugh's novel The Loved One, The American Way of Death Revisited will not fail to inform, delight, and disturb.

"Brilliant--hilarious. . . . A must-read for anyone planning to throw a funeral in their lifetime."--New York Post

"Witty and penetrating--it speaks the truth."--The Washington Post
Vintage, 9780679771869, 320pp.
Publication Date: January 4, 2000
About the Author
Jessica Mitford--of the notorious Mitford clan--was one of the most celebrated muckraking journalists of our time. Among her books are Daughters and Rebels, The Trial of Dr. Spock, and Poison Penmanship: The Gentle Art of Muckraking. Until her death in 1996, she lived in Oakland, California, with her husband, the labor lawyer Robert Treuhaft.