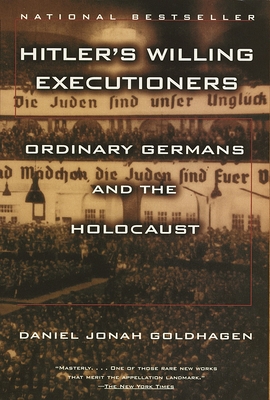 Hitler's Willing Executioners
Ordinary Germans and the Holocaust
Paperback

* Individual store prices may vary.
Other Editions of This Title:
Hardcover (3/19/1996)
Description
This groundbreaking international bestseller lays to rest many myths about the Holocaust: that Germans were ignorant of the mass destruction of Jews, that the killers were all SS men, and that those who slaughtered Jews did so reluctantly. Hitler's Willing Executioners provides conclusive evidence that the extermination of European Jewry engaged the energies and enthusiasm of tens of thousands of ordinary Germans. Goldhagen reconstructs the climate of "eliminationist anti-Semitism" that made Hitler's pursuit of his genocidal goals possible and the radical persecution of the Jews during the 1930s popular. Drawing on a wealth of unused archival materials, principally the testimony of the killers themselves, Goldhagen takes us into the killing fields where Germans voluntarily hunted Jews like animals, tortured them wantonly, and then posed cheerfully for snapshots with their victims. From mobile killing units, to the camps, to the death marches, Goldhagen shows how ordinary Germans, nurtured in a society where Jews were seen as unalterable evil and dangerous, willingly followed their beliefs to their logical conclusion.



"Hitler's Willing Executioner's is an original, indeed brilliant contribution to the...literature on the Holocaust."--New York Review of Books


"The most important book ever published about the Holocaust...Eloquently written, meticulously documented, impassioned...A model of moral and scholarly integrity."--Philadelphia Inquirer
Vintage, 9780679772682, 656pp.
Publication Date: January 28, 1997
About the Author
 
Daniel Jonah Goldhagen is an Associate of Harvard University's Minda de Gunzburg Center for European Studies.  His doctoral dissertation, which is the basis for the book, was awarded the American Political Science Association's 1994 Gabriel A. Almond Award for the best dissertation in the field of comparative politics.  After publication of this book in Germany, in 1997 Daniel Johan Goldhagen won the highly prestigious Democracy Prize.  He is the author of A Moral Reckoning: The Role of the Catholic Church in the Holocaust and Its Unfulfilled Duty of Repair.