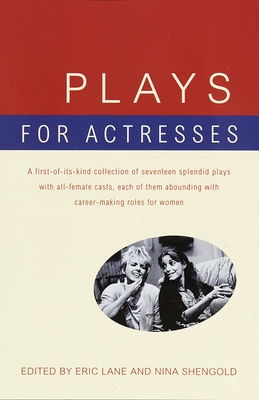 Plays for Actresses: A First-Of-Its-Kind Collection of Seventeen Splendid Plays with All-Female Casts, Each of Them Abounding with Career-M (Paperback)
A First-Of-Its-Kind Collection of Seventeen Splendid Plays with All-Female Casts, Each of Them Abounding with Career-M
Vintage, 9780679772811, 640pp.
Publication Date: March 25, 1997
Description
Gather any group of actresses, from students to stars, and someone will inevitably ask, "Where are all the great roles for women?" The roles are right here, in this unprecedented and magnificently diverse collection of plays with all-female casts. The seven full-length and ten one-act selections range in tone from the unabashed theatricality of Edward Albee's Pulitzer Prize-winning Three Tall Women to the blistering black comedy of Laura Cunningham's Beautiful Bodies. Their characters include uprooted Japanese war brides, outrageously liberated Shakespearean heroines, an avenging African American housewife, and nuns who double as Catholic schoolgirls. Whether you're looking for a script to produce or a scene for an acting class, this book will provide you with a wealth of juicy, challenging female roles as it introduces you to some of the finest playwrights at work today.
About the Author
Eric Lane and Nina Shengold have been editing contemporary theater anthologies for more than twenty years. Eric Lane's award-winning plays have been published and performed in the United States, Canada, Europe, and China. Plays include Ride, Times of War, Heart of the City, Dancing on Checkers' Grave, and Filming O'Keeffe. Floating, a PlayPenn finalist, was workshopped at Raven Theatre. Eric's short plays are published in Best American Short Plays, Poems and Plays, and the Foreign Language Press (Beijing). He wrote and produced the short films First Breath and Cater-Waiter, which he also directed; both films screened in more than forty cities worldwide. For TV's Ryan's Hope he received a Writers Guild Award. Honors include the Berrilla Kerr Playwriting Award, the La MaMa Playwright Award, and fellowships at Yaddo, VCCA, and St. James Cavalier in Malta. Eric is an honors graduate of Brown University, and artistic director of Orange Thoughts, a not-for-profit theater and film company in New York City. Nina Shengold's plays include Finger Foods, War at Home, Homesteaders, and Romeo/Juliet, and have been produced around the world. Her one-act No Shoulder was filmed by director Suzi Yoonessi, with Melissa Leo and Samantha Sloyan. Nina won a Writers Guild Award for her teleplay Labor of Love, starring Marcia Gay Harden; other teleplays include Blind Spot, with Joanne Woodward and Laura Linney, and Unwed Father. Her books include the novel Clearcut; River of Words: Portraits of Hudson Valley Writers (with photographer Jennifer May), and a growing posse of pseudonymous books for young readers. A graduate of Wesleyan, she is currently teaching creative writing at Manhattanville College. Nina lives in New York's Hudson Valley, where she has been books editor of Chronogram magazine since 2004.
Advertisement