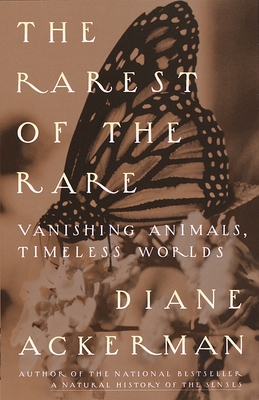 The Rarest of the Rare (Paperback)
Vanishing Animals, Timeless Worlds
Vintage, 9780679776239, 208pp.
Publication Date: January 14, 1997
* Individual store prices may vary.
Description
Ackerman journeys in search of monarch butterflies and short-tailed albatrosses, monk seals and golden lion tamarin monkeys: the world's rarest creatures and their vanishing habitats. She delivers a rapturous celebration of other species that is also a warning to our own. Traveling from the Amazon rain forest to a forbidding island off the coast of Japan, enduring everything from broken ribs to a beating by an irate seal, Ackerman reveals her subjects in all their splendid particularity. She shows us how they feed, mate, and migrate. She eavesdrops on their class and courtship dances. She pays tribute to the men and women hwo have deoted their lives to saving them.
About the Author
Diane Ackerman has been a finalist for the Pulitzer Prize for Nonfiction in addition to garnering many other awards and recognitions for her work, which include the bestselling The Zookeeper's Wife and A Natural History of the Senses. She lives in Ithaca, New York.
Praise For The Rarest of the Rare: Vanishing Animals, Timeless Worlds…
"A life-changing excursion, pleasing, and provocative to mind, body, and soul."--San Francisco Chronicle


"This reader was left wondering which was more impressive, Ms. Ackerman's meticulous prose or her intrepid spirit."--New York Times Book Review


"A work to savor...Ackerman brings to her work a poetic sensitivity that enchants while it informs...entrancing."--Philadelphia Inquirer