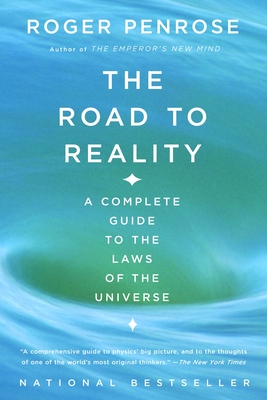 The Road to Reality (Paperback)
A Complete Guide to the Laws of the Universe
Vintage, 9780679776314, 1136pp.
Publication Date: January 9, 2007
Other Editions of This Title:
Hardcover (2/22/2005)
* Individual store prices may vary.
Description
Roger Penrose, one of the most accomplished scientists of our time, presents the only comprehensive and comprehensible account of the physics of the universe. From the very first attempts by the Greeks to grapple with the complexities of our known world to the latest application of infinity in physics, The Road to Reality carefully explores the movement of the smallest atomic particles and reaches into the vastness of intergalactic space. Here, Penrose examines the mathematical foundations of the physical universe, exposing the underlying beauty of physics and giving us one the most important works in modern science writing.
About the Author
Roger Penrose is Emeritus Rouse Ball Professor of Mathematics at Oxford University. He has received a number of prizes and awards, including the 1988 Wolf Prize for physics, which he shared with Stephen Hawking for their joint contribution to our understanding of the universe. His books include The Emperor's New Mind, Shadows of the Mind, and The Nature of Space and Time, which he wrote with Hawking. He has lectured extensively at universities throughout America. He lives in Oxford.
Praise For The Road to Reality: A Complete Guide to the Laws of the Universe…
"A comprehensive guide to physics' big picture, and to the thoughts of one of the world's most original thinkers."—The New York Times

"Simply astounding. . . . Gloriously variegated. . . . Pure delight. . . . It is shocking that so much can be explained so well. . . . Penrose gives us something that has been missing from the public discourse on science lately–a reason to live, something to look forward to." —American Scientist

"A remarkable book . . . teeming with delights." —Nature

"This is his magnum opus, the culmination of an already stellar career and a comprehensive summary of the current state of physics and cosmology. It should be read by anyone entering the field and referenced by everyone working in it." —The New York Sun

"Extremely comprehensive. . . . The Road to Reality unscores the fact that Penrose is one of the world's most original thinkers." —Tucson Citizen

"What a joy it is to read a book that doesn't simplify, doesn't dodge the difficult questions, and doesn't always pretend to have answers. . . . Penrose's appetite is heroic, his knowledge encyclopedic, his modesty a reminder that not all physicists claim to be able to explain the world in 250 pages."
—The Times (London)

"For physics fans, the high point of the year will undoubtedly be The Road to Reality."
—The Guardian

"A truly remarkable book...Penrose does much to reveal the beauty and subtlety that connects nature and the human imagination, demonstrating that the quest to understand the reality of our physical world, and the extent and limits of our mental capacities, is an awesome, never-ending journey rather than a one-way cul-de-sac."—London Sunday Times

"Penrose's work is genuinely magnificent, and the most stimulating book I have read in a long time."—Scotland on Sunday

"Science needs more people like Penrose, willing and able to point out the flaws in fashionable models from a position of authority and to signpost alternative roads to follow."—The Independent