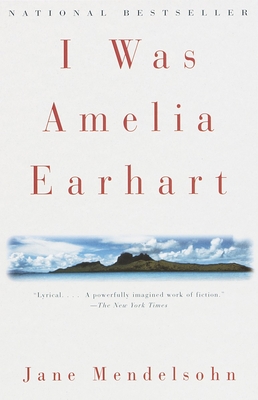 I Was Amelia Earhart (Vintage Contemporaries) (Paperback)
Vintage, 9780679776369, 160pp.
Publication Date: March 4, 1997
Other Editions of This Title:
Digital Audiobook (11/2/2015)
* Individual store prices may vary.
Description
In this brilliantly imagined novel, Amelia Earhart tells us what happened after she and her navigator, Fred Noonan, disappeared off the coast of New Guinea one glorious, windy day in 1937. And she tells us about herself.

There is her love affair with flying ("The sky is flesh") . . . .

There are her memories of the past: her childhood desire to become a heroine ("Heroines did what they wanted") . . . her marriage to G.P. Putnam, who promoted her to fame, but was willing to gamble her life so that the book she was writing about her round-the-world flight would sell out before Christmas.

There is the flight itself -- day after magnificent or perilous or exhilarating or terrifying day ("Noonan once said any fool could have seen I was risking my life but not living it").

And there is, miraculously, an island ("We named it Heaven, as a kind of joke").

And, most important, there is Noonan . . .
About the Author
Jane Mendelsohn was born in New York City, July 4, 1965. She was graduated summa cum laude, Phi Beta Kappa, from Yale University in 1987, and attended Yale Law School for one year before beginning a career as a writer/journalist.

In 1992, Ms. Mendelsohn spotted an article in The New York Times about the discovery of a piece of a plane believed to have been Amelia Earhart's. The article mentioned that Earhart traveled with a navigator, Fred Noonan, who was with her on her last flight. Intrigued by the dramatic possibilities of two people flying around the world together, crashing, and perhaps surviving, she began researching Earhart's life and disappearance. Shortly after, Ms. Mendelsohn began sketching out a book based on her findings. The first version was a much longer book, told entirely in the third person. "Once I finished it," Ms. Mendelsohn says, "I realized that I had only just figured out the story. Now that I knew what had happened, I had to tell it in Earhart's, and my, voice." The result is I Was Amelia Earhart.

Harper's Bazaar hails I Was Amelia Earhart as "an immediately addicting book, as telegraphic as those of Margaret Duras, and as charged with longing....not to be missed." The New York Times writes, "Ms. Mendelsohn has chosen to use the bare-boned outlines of the aviator's life as an armature for a poetic meditation on freedom and love and flight. I Was Amelia Earhart, like Gabriel Garcia Marquez's General in His Labyrinth, invokes the spirit of a mythic personage, while standing on its own as a powerfully imagined work of fiction." I Was Amelia Earhart is Ms. Mendelsohn's first book and novel.

Ms. Mendelsohn's reviews have appeared in The Philadelphia Inquirer, The Village Voice, The Guardian, The London Review of Books, and Yale Review. She has worked as an assistant to the literary editor at The Village Voice and as a tutor at Yale University. At the moment, Ms. Mendelsohn is writing a horror film. She is also sketching out details for her next novel.

Ms. Mendelsohn is married and lives in New York with her husband, filmmaker Nick Davis.