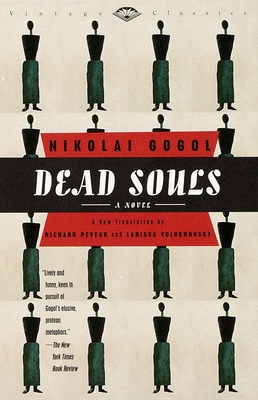 Dead Souls
A Novel (Vintage Classics)
Paperback

* Individual store prices may vary.
Other Editions of This Title:
Paperback (4/22/2016)
Paperback (12/19/2015)
Paperback (8/28/2017)
Paperback (12/25/2011)
Paperback (2/4/2017)
Paperback (9/12/2021)
Paperback (2/26/2009)
Paperback (3/26/2017)
Paperback (11/6/2014)
Paperback (2/22/2021)
Paperback (2/12/2021)
Paperback (11/6/2019)
Description
Since its publication in 1842, Dead Souls has been celebrated as a supremely realistic portrait of provincial Russian life and as a splendidly exaggerated tale; as a paean to the Russian spirit and as a remorseless satire of imperial Russian venality, vulgarity, and pomp. As Gogol's wily antihero, Chichikov, combs the back country wheeling and dealing for "dead souls"--deceased serfs who still represent money to anyone sharp enough to trade in them--we are introduced to a Dickensian cast of peasants, landowners, and conniving petty officials, few of whom can resist the seductive illogic of Chichikov's proposition. This lively, idiomatic English version by the award-winning translators Richard Pevear and Larissa Volokhonsky makes accessible the full extent of the novel's lyricism, sulphurous humor, and delight in human oddity and error.
Praise For Dead Souls: A Novel (Vintage Classics)…
Praise for previous translations by Richard Pevear and Larissa Volokhonsky, winners of the PEN/Book-of-the-Month Club Prize


The Brothers Karamazov
"One finally gets the musical whole of Dostoevsky's original." –New York Times Book Review

"It may well be that Dostoevsky's [world], with all its resourceful energies of life and language, is only now–and through the medium of [this] new translation–beginning to come home to the English-speaking reader." –New York Review of Books


Crime and Punishment
"The best [translation] currently available…An especially faithful re-creation…with a coiled-spring kinetic energy… Don't miss it." –Washington Post Book World

"Reaches as close to Dostoevsky's Russian as is possible in English…The original's force and frightening immediacy is captured…The Pevear and Volokhonsky translation will become the standard version." –Chicago Tribune


Demons

"The merit in this edition of Demons resides in the technical virtuosity of the translators…They capture the feverishly intense, personal explosions of activity and emotion that manifest themselves in Russian life." –New York Times Book Review

"[Pevear and Volokhonsky] have managed to capture and differentiate the characters' many voices…They come into their own when faced with Dostoevsky's wonderfully quirky use of varied speech patterns…A capital job of restoration." –Los Angeles Times

With an Introduction by Richard Pevear
Vintage, 9780679776444, 432pp.
Publication Date: March 25, 1997
About the Author
Nikolai Vasilevich Gogol was born in 1809; his family were small gentry of Ukrainian cossack extraction, and his father was the author of a number of plays based on Ukrainian popular tales. He attended school in Nézhin and gained a reputation for his theatrical abilities. He went to St Petersburg in 1829 and with the help of a friend gained a post in one of the government ministries. Gogol was introduced to Zhukovsky, the romantic poet, and to Pushkin, and with the publication of Evenings on a Farm near Dikanka (1831) he had an entrée to all the leading literary salons. He even managed for a short period to be Professor of History at the University of St. Petersburg (1834-5). Diary of a Madman and The Story of the Quarrel between Ivan Ivanovich and Ivan Nikiforovich appeared in 1934, The Nose in 1836, and The Overcoat in 1842. Gogol also wrote the play The Inspector (1836), Dead Souls (1842), and several moralizing essays defending the Tsarist regime, to the horror of his liberal and radical friends. He lived a great deal abroad, mostly in Rome, and in his last years became increasingly prey to religious mania and despair. He made a pilgrimage to Jerusalem in 1848, but was bitterly disappointed in the lack of feeling that the journey kindled. He returned to Russia and fell under the influence of a spiritual director who told him to destroy his writings as they were sinful. He burned the second part of Dead Souls, and died in 1852 after subjecting himself to a severe regime of fasting.