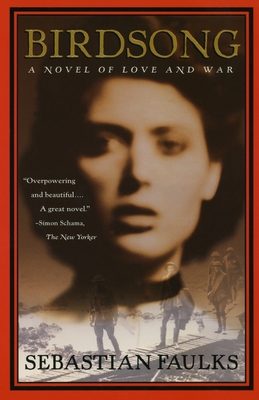 Birdsong (Paperback)
A Novel of Love and War (Vintage International)
Vintage, 9780679776819, 496pp.
Publication Date: June 2, 1997
* Individual store prices may vary.
Description
Published to international critical and popular acclaim, this intensely romantic yet stunningly realistic novel spans three generations and the unimaginable gulf between the First World War and the present. As the young Englishman Stephen Wraysford passes through a tempestuous love affair with Isabelle Azaire in France and enters the dark, surreal world beneath the trenches of No Man's Land, Sebastian Faulks creates a world of fiction that is as tragic as A Farewell to Arms and as sensuous as The English Patient. Crafted from the ruins of war and the indestructibility of love, Birdsong is a novel that will be read and marveled at for years to come.
About the Author
Sebastian Faulks is best known for his trilogy of novels set in France: The Girl at the Lion d'Or, Birdsong, and Charlotte Gray, the latter two of which were bestsellers. After a period in France, he and his family now live in London.
Praise For Birdsong: A Novel of Love and War (Vintage International)…
   • "With Birdsong Faulks has produced a mesmerizing story of love and war... This book is so powerful that as I finished it I turned to the front to start again." --Sunday Express 

   • "Engrossing, moving, and unforgettable." --The Times
Stephen has visions of death within the lush beauty of pre-war Picardy. Do you believe that visions are simple premonitions, or is the predisposition to such images part of one's character?
It's not uncommon for people to have fears of spiders, snakes, heights, etc. Why does Stephen fear birds? What do birds symbolize for him? How might you explain Stephen's dream (p. 44)?
The soldiers tend to quickly forget the names and characters of their friends who die. Do you find this shocking? Or necessary for self-preservation?
Throughout the war, Stephen feels a real hatred for the enemy. Do you believe that this hatred is genuine, or does it just give meaning and order to his existence? Do his feelings bear any resemblance to modern-day bigotry?
High commanders on the Western Front usually established their headquarters in châteaux well behind the lines, losing the respect of their men because they didn't share the danger and squalor of the front line. How did this manner of conducting war change our ideas of military glory and our vision of our military leaders?
Stephen and Weir enjoy an unlikely but intense friendship. What is it about Weir that makes Stephen love him more than any of the others? Can you draw any comparisons between their friendship and one of your own?
Discuss how civilians, in general, treat and respond to soldiers. How have civilians' attitudes changed between World War I and the Vietnam era? Why?
Why do you think that Stephen displays such an overpowering will to survive, in spite of the loneliness of his life and the unhappiness he has undergone? How strong is your will to survive?
Does Elizabeth's ignorance of recent history surprise you, or do you find it characteristic of her generation? Are you or people you know similarly detached from the past?
Explore the various parallels drawn between desire and death, love and war. In what ways are the love scenes similar to some of the battle scenes?