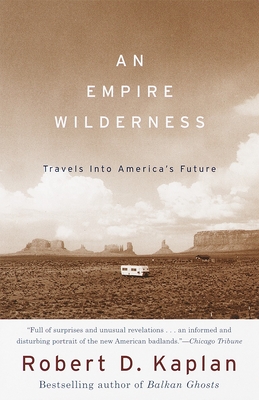 An Empire Wilderness
Travels into America's Future (Vintage Departures)
Paperback

* Individual store prices may vary.
Description
"Full of surprises and unusual revelations . . . an informed and disturbing portrait of the new American badlands."--Chicago Tribune

"[Kaplan is] tireless, curious, and smart. . . . I cannot imagine anyone will concoct a more convincing scenario for the American future." --Thurston Clarke,   The New York Times

With the same prescience and eye for telling detail that distinguished his bestselling Balkan Ghosts, Robert Kaplan now explores his native country, the United States of America. His starting point: the conviction that America is a country not in decline but in transition, slowly but inexorably shedding its identity as a monolithic nation-state and assuming a radically new one.
        Everywhere Kaplan travels--from St. Louis, Missouri, to Portland, Oregon, from the forty-ninth parallel to the banks of the Rio Grande--he finds an America ever more fragmented along lines of race, class, education, and geography. An America whose wealthy communities become wealthier and more fortress-like as they become more closely linked to the world's business capitals than to the desolate ghettoes next door. An America where the political boundaries between the states--and between the U.S. and Canada and Mexico--are becoming increasingly blurred, betokening a vast open zone for trade, commerce, and cultural interaction, the nexus of tomorrow's transnational world. Never nostalgic or falsely optimistic, bracingly unafraid of change and its consequences, Kaplan paints a startling portrait of post-Cold War America--a great nation entering the final, most uncertain phase of its history. Here is travel writing with the force of prophecy.

"Lively . . . Kaplan has a sharp eye for social truth, and his encounters with a chorus of eloquent citizens of the West keeps the narrative humming." --Outside
Vintage, 9780679776871, 416pp.
Publication Date: September 7, 1999
About the Author
Robert D. Kaplan is the bestselling author of twenty books on foreign affairs and travel translated into many languages, including Adriatic, The Good American, The Revenge of Geography, Asia's Cauldron, Monsoon, The Coming Anarchy, and Balkan Ghosts. He holds the Robert Strausz-Hupé Chair in Geopolitics at the Foreign Policy Research Institute. For three decades he reported on foreign affairs for The Atlantic. He was a member of the Pentagon's Defense Policy Board and the U.S. Navy's Executive Panel. Foreign Policy magazine twice named him one of the world's "Top 100 Global Thinkers."
or
Not Currently Available for Direct Purchase