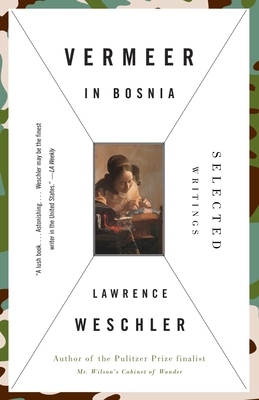 Vermeer in Bosnia
Selected Writings
Paperback

* Individual store prices may vary.
Description
There are writers who specialize in the strange and others whose genius is to find the strangeness in the familiar, the unexpected meanings in stories we thought we knew. Of that second category, Lawrence Weschler is the master. Witness the pieces in this splendidly disorienting collection, spanning twenty years of his career and the full range of his concerns–which is to say, practically everything.

Only Lawrence Weschler could reveal the connections between the twentieth century's Yugoslav wars and the equally violent Holland in which Vermeer created his luminously serene paintings. In his profile of Roman Polanski, Weschler traces the filmmaker's symbolic negotiations with his nightmarish childhood during the Holocaust. Here, too, are meditations on artists Ed Kienholz and David Hockney, on the author's grandfather and daughter, and on the light and earthquakes of his native Los Angeles. Haunting, elegant, and intoxicating, Vermeer in Bosnia awakens awe and wonder at the world around us.
Praise For Vermeer in Bosnia: Selected Writings…
"A lush book. . . . Astonishing. . . . Weschler may be the finest writer in the United States." –LA WeeklyA San Francisco Chronicle and San Jose Mercury News Best Book of the YearA Bloomsbury Review Editors' Favorite"There's no writer alive with more raw and contagious enthusiasm for the world. . . . Ravishing and utterly life-emboldening." –Dave Eggers"Miraculous. . . . Excellentric. . . . Electrically precise. . . . Endlessly nuanced. . . . Layered. Mischievous. Faceted. Fun. . . . Weschler inspires envy." –The New York Observer"Startling. . . . Promiscuously eclectic. . . . Weschler is an impossibly wide-ranging writer [and] a master of the journalistic profile." –Chicago Tribune"Lambent. . . . Vivid. . . . Filigreed and moving. . . . A gorgeous collection." –San Francisco Chronicle"Lively and provocative. . . . Wonderfully illuminating. . . . A surprising smorgasbord of delights. . . . [Weschler is] an erudite, enthusiastic observer of life." –Los Angeles Times"Absorbing. . . . Weschler . . . has an unbeatable eye–and heart and writerly panache–for human oddity and invention." –Entertainment Weekly"Luminous. . . . Exquisite. . . . Weschler is a master of the short form. . . . [He] pokes around in odd corners but always finds great stories of human experience. . . . [He] finds the 'edge' and freezes it for us in finely-sharpened prose." –The Oregonian"Weschler is a national treasure . . . that rare cultural commentator whose keenly off-center perspectives and interests bring new meaning to the idea of 'the pleasure of the text.' " –The Bloomsbury Review"Like a postmodern Scheherazade . . . Weschler spins yarns about everything under the sun. . . . [He has] a keen eye for connecting the dots we mere mortals can't, or won't, see . . . and writes generous prose that allows the reader to share in the author's serendipitous discoveries." –Austin Chronicle"Weschler is a writer one wants to reads irrespective of what he is writing about. His marvelous essays are models of clarity of thought and subtlety of feeling–and vice-versa. Vermeer in Bosnia is nothing less than a sustained advertisement for the life of the mind." –Geoff Dyer, author of Yoga for People Who Can't Be Bothered To Do It"A goldmine of excellent writing." –Santa Cruz Sentinel"Brilliant. . . . Engrossing. . . . Compelling. . . . The essays . . . display a tremendous breadth and depth. . . . By simply connecting the dots, he creates a picture that others might not see. . . . Few readers can remain indifferent to Weschler's work." –St. Petersburg Times"The Urban piece alone, was, for me, worth the price of admission." –David Byrne"Graceful and illuminating." –The Globe and Mail (Toronto)"A writer of wide-ranging passions from the quirky to the crucial. . . . Weschler [is] a literary renaissance and reconnaissance man keen on collecting and connecting, effectively reconciling and interrelating apparent disparities and disjunctions." –San Diego Union Tribune"From his sad sanity on Yugoslavia's aftermath, to the most endearing argument for L.A. since the Beach Boys, Weschler gets around–though the holy-moly roadside attraction here is the author's landmark brain." –Sarah Vowell, author of Take the Cannoli"Inspiring. . . . With his densely textured consciousness, coupled with a curiosity that can only be called protean, [Weschler] may be the most civilized staff writer The New Yorker ever lost. . . . Most consistently winning of all is that echt capacity of the literate soul: the ability to juggle incongruities without twitching." –The New York Observer"Rich. . . . Enchanting. . . . A smart melding of thought and feeling. . . . Weschler shows great mind-eye coordination. He sees and he thinks, and what he thinks is revelatory." –Detroit Free Press "Off-the-charts, happy/sad feeling, dark in the winter brilliant in the springtime crazy book! Big Polish ears and shaky furniture, are you joy today? Suntory time." –Mark Salzman, author of Lying Awake"Weschler [is] one of the best writers in the country. . . . To me [he] is like Ray Charles; he puts his own soulful stamp on anything that beckons him, and something moves me in almost everything he does. . . . What sets Weschler apart is the utterly fresh and unexpected connections he makes as he digs ever deeper into a subject." –Pamela Feinsilber, San Francisco Magazine
Vintage, 9780679777403, 432pp.
Publication Date: July 12, 2005
About the Author
Lawrence Weschler is the author of more than ten books, including Mr. Wilson's Cabinet of Wonder, which was shortlisted for both the Pulitzer Prize and the National Book Critics Circle Award. He was a staff writer at The New Yorker for more than twenty years and is a regular contributor to McSweeney's. Since 2001 he has been the director of the New York Institute for the Humanities at New York University. He lives in Westchester County, New York, with his wife and daughter.
or
Not Currently Available for Direct Purchase