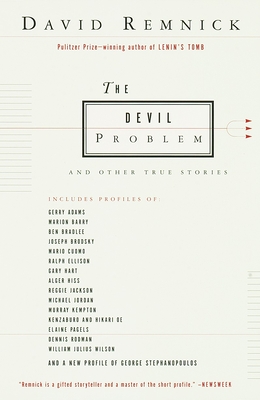 The Devil Problem
And Other True Stories
Paperback

* Individual store prices may vary.
Description
Readers know from his now classic Lenin's Tomb that Remnick is a superb portraitist who can bring his subjects to life and reveal them in such surprising ways as to justify comparison to Dickens, Balzac, or Proust. In this collection, Remnick's gift for character is sharper than ever, whether he writes about Gary Hart stumbling through life after Donna Rice or Mario Cuomo, who now presides over a Saturday morning radio talk show, fielding questions from crackpots, or about Michael Jordan's awesome return to the Chicago Bulls -- or Reggie Jackson's last times at bat.

Remnick's portraits of such disparate characters as Alger Hiss and Ralph Ellison, Richard Nixon and Elaine Pagels, Gerry Adams and Marion Barry are unified by this extraordinary ability to create a living character, so that the pieces in this book, taken together, constitute a splendid pageant of the representative characters of our time.
Vintage, 9780679777526, 448pp.
Publication Date: September 30, 1997
About the Author
David Remnick was a reporter for The Washington Post
for ten years, including four in Moscow. He joined The
New Yorker as a writer in 1992 and has been the magazine's
editor since 1998. Mr. Remnick served as an Olympic Correspondent and Commentator for NBC during the Sochi 2014 Winter Olympics.