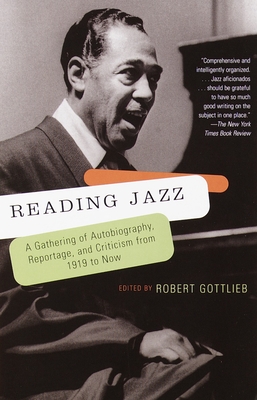 Reading Jazz: A Gathering of Autobiography, Reportage, and Criticism from 1919 to Now (Paperback)
A Gathering of Autobiography, Reportage, and Criticism from 1919 to Now
Vintage, 9780679781110, 1088pp.
Publication Date: October 26, 1999
Description
"Comprehensive and intelligently organized. . . . Jazz aficionados . . . should be grateful to have so much good writing on the subject in one place."--The New York Times Book Review "Alluring. . . . Capture s] much of the breadth of the music, as well as the passionate debates it has stirred, more vividly than any other jazz anthology to date."--Chicago Tribune No musical idiom has inspired more fine writing than jazz, and nowhere has that writing been presented with greater comprehensiveness and taste than in this glorious collection. In Reading Jazz, editor Robert Gottlieb combs through eighty years of autobiography, reportage, and criticism by the music's greatest players, commentators, and fans to create what is at once a monumental tapestry of jazz history and testimony to the elegance, vigor, and variety of jazz writing.
Here are Jelly Roll Morton, recalling the whorehouse piano players of New Orleans in 1902; Whitney Balliett, profiling clarinetist Pee Wee Russell; poet Philip Larkin, with an eloquently dyspeptic jeremiad against bop. Here, too, are the voices of Billie Holiday and Charles Mingus, Albert Murray and Leonard Bernstein, Stanley Crouch and LeRoi Jones, reminiscing, analyzing, celebrating, and settling scores. For anyone who loves the music--or the music of great prose--Reading Jazz is indispensable. "The ideal gift for jazzniks and boppers everywhere. . . . It gathers the best and most varied jazz writing of more than a century."--Sunday Times (London)
About the Author
Robert Gottlieb is the former Editor-in-Chief of Alfred A. Knopf and of The New Yorker. He is the dance critic for the New York Observer and author of George Balanchine: The Ballet Maker. He has previously edited Reading Jazz, Reading Lyrics (with Robert Kimball), the Everyman's Library edition of The Collected Stories of Rudyard Kipling, and The Journals of John Cheever.
Advertisement