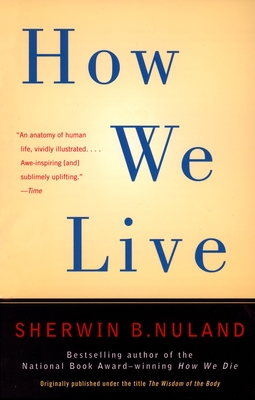 How We Live (Paperback)
Vintage, 9780679781400, 432pp.
Publication Date: May 26, 1998
Description
Having won the National Book Award for How We Die, his best-selling inquiry into the causes and modes of death, Sherwin Nuland now turns his attention to the miraculous resiliency of human life. For this lucid, wonderful, and wonder-filled new book explores the body's mysterious capacity to marshal disparate organs and processes in the interests of survival. Like its predecessor, How We Live is filled with gripping medical case histories: a woman is pulled back from the brink of death from inexplicable internal bleeding; another patient triumphs over breast cancer; the "routine" removal of a polyp triggers a nearly lethal medical crisis. For Nuland, each of these cases serves to illustrate the extraordinary responsiveness and adaptability of the human organism. We learn how the aorta's baroreceptors monitor blood pressure and respond to its minutest fluctuations. We follow the intricate chain of electrochemical command that makes us leap out of the path of a speeding car. We discover why the stomach--which is capable of breaking down everything from porridge to pizza--refrains from digesting itself. Informed by sympathy for human suffering and an erudition that includes poetry and the Talmud as well as the medical canon, How We Live is science writing of the rarest kind--lucid, poetic, and genuinely uplifting.
About the Author
Sherwin B. Nuland, M.D., is the author of nine previous books, including Doctors: The Biography of Medicine, The Wisdom of the Body, The Mysteries Within, Lost in America: A Journey with My Father, and The Doctors' Plague. His book How We Die: Reflections on Life's Final Chapter won the National Book Award and spent thirty-four weeks on the New York Times best-seller list. His writing has appeared in The New Yorker, The New Republic, The New York Times, Time, and The New York Review of Books. Nuland was a clinical professor of surgery at Yale University, where he also teaches bioethics and medical history. He lived with his family in Connecticut. He died in 2014.
Praise For How We Live…
"An anatomy of human life, vividly illustrated…. Awe-inspiring [and] sublimely uplifting." —Time
 
"Memorable…. A unique and worthy addition to the medical classics." —Boston Globe
 
"Dramatic, lyrical.… The book is part medical thriller…. And part profession of faith in the beauty of human biology."—Wall Street Journal
Advertisement