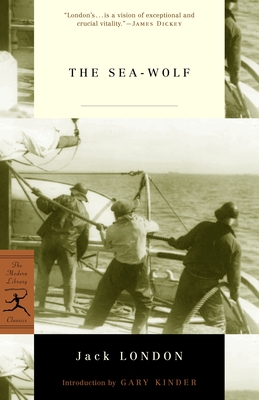 The Sea-Wolf (Paperback)
Modern Library, 9780679783374, 320pp.
Publication Date: November 14, 2000
Description
A thrilling epic of a sea voyage and a complex novel of ideas, The Sea-Wolf is a standard-bearer of its genre. It is the vivid story of a gentleman scholar, Humphrey Van Weyden, who is rescued by a seal-hunting schooner after a ferryboat accident in San Francisco Bay. London uses Van Weyden's ordeal at the hands of a schooner's devious crew to explore powerful themes of ambition, courage, and the innate will to survive. The Sea-Wolf also introduces Jack London's most memorable, fully realized character, Wolf Larsen, the schooner's brutal captain, who ruthlessly crushes anyone standing in his way. As Gary Kinder states in his Introduction, "Wolf Larsen is one of the most carefully carved characters in American literature....London, himself, seems as fascinated as the reader with his own creation."
About the Author
Jack London (1876-1916) was born John Chaney in Pennsylvania, USA. In 1896 he was caught up in the gold rush to the Klondike River in northwest Canada, which became the inspiration for The Call of the Wild (1903) and White Fang (1906). London is one of the most widely read writers in the world. Gary Kinder is the bestselling author of Victim: The Other Side of Murder, Light Years: An Investigation into the Extraterrestrial Experiences of Eduard Meier, and Ship of Gold in the Deep Blue Sea: The History and Discovery of the World's Richest Shipwreck. He lives in Seattle.
Praise For The Sea-Wolf…
"London's...is a vision of exceptional and crucial vitality."
--James Dickey
Advertisement