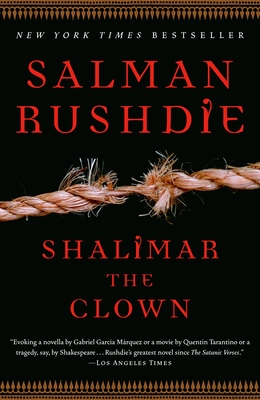 Shalimar the Clown
A Novel
Paperback

* Individual store prices may vary.
Other Editions of This Title:
Digital Audiobook (9/11/2005)
Description

"Dazzling . . . Modern thriller, Ramayan epic, courtroom drama, slapstick comedy, wartime adventure, political satire, village legend–they're all blended here magnificently."
–The Washington Post Book World

This is the story of Maximilian Ophuls, America's counterterrorism chief, one of the makers of the modern world; his Kashmiri Muslim driver and subsequent killer, a mysterious figure who calls himself Shalimar the clown; Max's illegitimate daughter India; and a woman who links them, whose revelation finally explains them all. It is an epic narrative that moves from California to Kashmir, France, and England, and back to California again. Along the way there are tales of princesses lured from their homes by demons, legends of kings forced to defend their kingdoms against evil. And there is always love, gained and lost, uncommonly beautiful and mortally dangerous.

"A commanding story . . . [a] harrowing climax . . . Revenge is an ancient and powerful engine of narrative."
–The New York Times Book Review

"Absorbing . . . Everywhere [Rushdie] takes us there is both love and war, in strange and terrifying combinations, painted in swaying, swirling, world-eating prose that annihilates the borders between East and West, love and hate, private lives and the history they make."
–Time

"A vast, richly peopled, beautiful and deeply rageful book that serves as a profound and disturbing artifact of our times."
–San Francisco Chronicle

"Marvelous . . . brilliant . . . a story worthy of [Rushdie's] genius."
–Detroit Free Press

ONE OF THE BEST BOOKS OF THE YEAR
– The Washington Post Book World –Los Angeles Times Book Review –St. Louis Post-Dispatch –Rocky Mountain News

ONE OF THE BEST NOVELS OF THE YEAR
–Time –Chicago Tribune –The Christian Science Monitor
Praise For Shalimar the Clown: A Novel…
"A sprawling tale of love and politics. . . . A daring aesthetic and political balancing act that traffics in many of the major concerns of post-colonial literature, but always within an evolving and bravely empathetic story. . . . One of Rushdie's best, and an important and rewarding must-read."
—National Post

"Read Shalimar the Clown for the effervescent fun factor that is always present in Rushdie's work. . . and for its devastating portrait of the destruction of Kashmir."
—The Globe and Mail

"[Shalimar the Clown] is that rare highwire act, a literary thriller. It seems a vigorous rebutal to the recent dismissal of fiction by V. S. Naipaul, to the effect that 'if you write a novel... it's of no account.'"
—Financial Times (UK)

"A masterly deployment of interconnected narratives spanning six decades. . . . Dazzling. . . . A magical-realist masterpiece that equals, and arguably surpasses, the achievements of Midnight's Children, Shame and The Moor's Last Sigh. The Swedes won't dare to offend Islam by giving Rushdie the Nobel Prize he deserves more than any other living writer. Injustice rules."
—Kirkus Reviews

"The. . .transformation of Shalimar into a terrorist is easily the most impressive achievement of the book, and here one must congratulate Rushdie for having made artistic capital out of his own suffering, for the years spent under police protection, hunted by zealots, have been poured into the novel in ways which ring hideously true. . . . Shalimar the Clown is a powerful parable about the willing and unwilling subversion of multiculturalism."
—Publishers Weekly

Praise for Salman Rushdie:
"Our most exhilaratingly inventive prose stylist, a writer of breathtaking originality. . . . He has become, as much for his convictions as for his creativity, the finest English writer of India."
—Financial Times (UK)

"With Rushdie one is always in the presence of a true original. . . . More than any other contemporary English writer, Rushdie makes the page sing with his prose."
—The Washington Post Book World

"A master storyteller.
—The Standard (UK)

"A great novelist, a master of perpetual storytelling."
—V. S. Pritchett

Praise for Fury:
"An exhilarating read. . . . One page of Fury is worth a thousand pages of the grey, risk-averse prose that passes so often for contemporary literary fiction."
—The Globe and Mail

"A beautifully written and carefully constructed novel. . . . [Fury] ricochets back and forth between well mannered realism and [Rushdie's] own brand of what might almost be called surrealism — manic, absurdist, biting, over-the-top and very funny."
—The Vancouver Sun
Random House Trade Paperbacks, 9780679783480, 416pp.
Publication Date: October 10, 2006
About the Author
Salman Rushdie was born in 1947. He is the author of eight previous novels: Grimus, Midnight's Children, Shame, The Satanic Verses, Haroun and the Sea of Stories, The Moor's Last Sigh, The Ground Beneath Her Feet and Fury. He has published a collection of short stories, East, West, a book of reportage, The Jaguar Smile, two collections of essays, Imaginary Homelands and Step Across This Line, and a work of film criticism about The Wizard of Oz.

Salman Rushdie's second novel, Midnight's Children, was awarded both the Booker Prize and the "Booker of Bookers," as the best novel to have won the Booker Prize in its first 25 years. His other accolades include the Whitbread Novel Award, the Prix du Meilleur Livre Etranger, the James Tait Black Memorial Prize and the Austrian State Prize for European Literature. Salman Rushdie lives in London and New York.

To schedule a speaking engagement, please contact American Program Bureau at www.apbspeakers.com