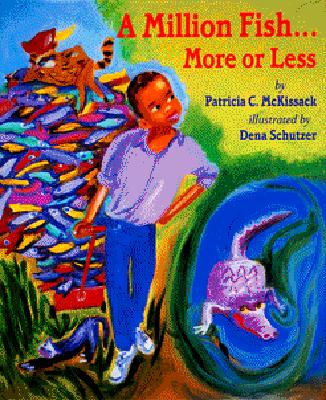 A Million Fish...More or Less (Hardcover)
Alfred A. Knopf Books for Young Readers, 9780679806929, 32pp.
Publication Date: June 14, 2016
Description
Newbery honor author Patricia C. McKissack's original yarn of the Louisiana bayou is "told with verve and sly wit." (Publishers Weekly, Starred review) Hugh Thomas knows that the Bayou Clapateaux is a mighty peculiar place. Why, back in 1903, Papa-Daddy and Elder Abbajon caught a turkey that weighed 500 pounds...more or less. 500 pounds? Hugh Thomas isn't so sure about that, until he's left alone on the bayou with only his fishing pole for company. Soon he catches three fish, and then...a million more But after meeting up with raccoon bandits, thieving crows, and a hungry cat named Chantilly, Hugh Thomas returns home with just enough fish for breakfast...and a fantastic story, of course.
About the Author
Patricia C. McKissack is the author of over twenty children's books, including The Dark Thirty: Southern Tales of the Supernatural, which was a Newbery Honor book and a Coretta Scott King Award winner, and the All I'll Ever Want Christmas Doll. She has also received the Coretta Scott King Award for A Long Hard Journey: The Story of Pullman Porter and Christmas in the Big House, Christmas in the Quarters. Patricia currently lives in St. Louis. From the Trade Paperback edition.
Advertisement