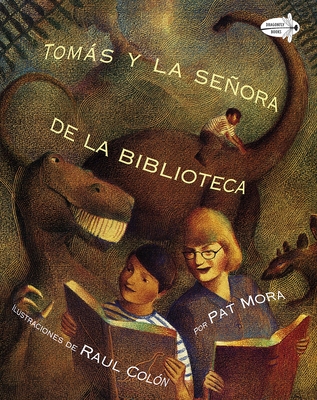 Tomas y La Senora de La Biblioteca = Tomas & the Library Lady (Paperback)
Dragonfly Books, 9780679841739, 40pp.
Publication Date: September 23, 1997
Description
Tomas es hijo de trabajadores migratorios. Cada verano, el y su familia viajan a Iowa, desde Tejas, donde pasan largos y dificiles dias en el campo, durante la temporada de la cosecha de frutas y verduras. Por las noches, a veces, se reunen a escuchar los maravillosos cuentes de papa grande, el abuelo de Tomas. Con el tiempo, Tomas se aprende todos los cuentos de memoria.
Hay muchos otros cuentos en la biblioteca - le dice papa grande. Y al dia siguiente, Tomas conoce a la senora de la biblioteca, quien le abre las puertas a un nuevo mundo. Este alentador cuento de Pat Mora es acerca de la ninez de Tomas Rivera, quien llego a ser rector de la Universidad de California en Riverside.
About the Author
La galardonada autora Pat Mora escribe poesia, no ficcion y libros infantiles, incluyendo Tomas y la senora de la biblioteca, Dona flor, A Library for Juana y I Pledge Allegiance. Es miembro honorario de la ALA, el honor mas alto otorgado a miembros que no son bibliotecarios. Pat vive en Santa Fe, New Mexico. Descubre mas sobre Pat y sus libros en patmora.com.
Advertisement