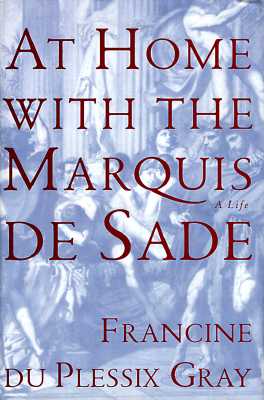 At Home with the Marquis de Sade: A Life (Hardcover)
A Life
Simon & Schuster, 9780684800073, 400pp.
Publication Date: November 1, 1998
* Individual store prices may vary.
or
Not Currently Available for Direct Purchase
Description
In this groundbreaking account of the scandalous life and the violent times of the Marquis de Sade, novelist, essayist, and biographer Francine du Plessix Gray brilliantly resurrects this legendary man's relationship with his family-- his devoted wife, his iron-willed mother-in-law, and his three children. Gray draws on thousands of pages of letters exchanged by the two spouses, few of which have been published in English, to explore in the fullest historical and psychological detail what it was like to be the Marquise de Sade, a decorous, upright woman married throughout the decades preceding the French Revolution to one of the most maverick spirits of recent times.
Donatien Alphonse Francois, Marquis de Sade (1740-1814), the flamboyant aristocrat whose name has come to connote sexual cruelty, has been called "the freest spirit who ever lived", "the most lucid hero of Western thought", and "a Professor Emeritus of crime". Yet in the vast literature inspired by the marquis's fictional and real-life libertinism, relatively little attention has been given the two women who were closest to him: Renee-Pelagie de Sade, his adoring wife for more than a quarter of a century, and his powerful mother-in-law, Madame de Montreuil. Gray brings to life these two remarkable women and their complex relationship with Sade as they dedicated themselves, each in her own way, to protecting him from the law, curbing his excesses, and ultimately confining him.
After years of indulging a variety of sexual aberrations, experiences he used in novels such as "Justine, Philosophy in the Boudoir", and "The 120 Days of Sodom", Sade was imprisoned on the basis of an arrest warrant issued by Louis XVI at his mother-in-law's instigation. Throughout his thirteen years in jail, Madame de Sade was her husband's principal solace and his only lifeline to reality. Few spouses seemed more ill-matched than the profligate nobleman and his homespun wife, but the two enjoyed intimate bonds of affection and conspiracy. Madame de Sade remained passionately in love with her husband throughout the first twenty-six years of their marriage; she accepted his many liaisons with actresses, courtesans, and whores of all varieties; hid her husband's traces from the police; and may even have participated in his orgies. It was only upon the onset of the French Revolution, when Sade was finally freed from the Bastille, that Pelagie made a sudden about-face from her decades of abject devotion.
In the course of telling this remarkable story, Gray vividly re-creates the extravagant hedonism of late eighteenth-century France; the ensuing terror of the French Revolution, when her protagonists lived in fear of imminent destruction; and the oppression of the Napoleonic regime under which Sade spent his last decade. The seventy-four-year span of the Marquis de Sade's life, the entire panorama of his milieu and of his times, are brought to life in these pages with immediacy, irony, and verve.

Advertisement