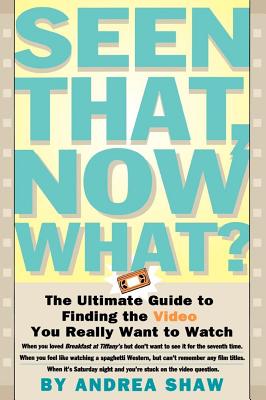 Seen That, Now What? (Paperback)
The Ultimate Guide to Finding the Video You Really Want to Watch
Touchstone Books, 9780684800110, 592pp.
Publication Date: April 19, 1996
* Individual store prices may vary.
Description
You've never used a video guide like this before.
You loved Chariots of Fire and you want to see something like it. Where do you start? Look up Chariots of Fire in the index, and find it in Drama. There you'll see it listed under White Flannel Films:
Welcome to the glory days of the British empire when the ruling class rode horses on large country estates, servants were in plentiful supply, and only an adulterous lover questioned the status quo. As in other costume dramas, the period details are celebrations of all that was brilliant and luxurious, with the camera sweeping over British, Indian, or African countryscapes and exquisite turn-of-the-century interiors. But all this lush upholstery doesn't cover up the intelligent, thoughtful stories -- usually based on Lawrence, Forster, and Waugh novels -- played by stellar British actors.
In White Flannel Films there are concise, witty reviews of select movies like
A Room with a View
A Passage to India
Heat and Dust
The Shooting Party
Out of Africa
White Mischief
and more
There is also a unique ratings system that helps you distinguish the bombs from the sleepers. But the key is that all these films offer the same kind of viewing experience -- if you like one, chances are good you'll like the others, too.
Seen That, Now What? is your own personal video genius, who knows everything about movies and exactly what you like to watch.