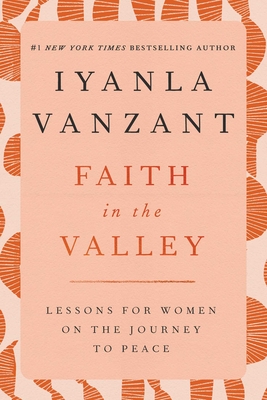 Faith in the Valley (Paperback)
Lessons for Women on the Journey to Peace
Atria Books, 9780684801131, 320pp.
Publication Date: May 8, 1996
Other Editions of This Title:
Digital Audiobook (11/30/2000)
Hardcover (5/4/1998)
* Individual store prices may vary.
Description
"The most powerful spiritual healer, fixer, teacher on the planet." —Oprah Winfrey

In this companion volume to her bestselling book Acts of Faith, bestselling author and star of "Iyanla: Fix My Life" discusses the "valleys" that cause stress and imbalance for women and explains how women can cleanse their minds and promote a healthy foundation for living in the modern world.

A Note from Iyanla Vanzant

Beloved friend,

When this little book was first published many years ago, it became a beacon of light for many people who found themselves time and time again in one valley or another. Valleys are nothing new for any of us. Some of you may be in a valley right now, or, since you never know what's around the corner, you may be on the brink of tottering into yet another valley. Or maybe you've just survived a valley that you swear you'll never revisit—but guess what? That's precisely the valley you'll probably see again. And again.

Being in a valley can be a lonely and bewildering experience. This book was written to help you feel less lonely by reminding you that you really aren't ever alone since God is always by your side, but more important, you are always by your own side. No matter how dire the situation may seem, no matter how dark and bleak the valley may be, you have all you need within you to survive the valley—any valley. Even though you may not know how you got into the valley in the first place, you do know, deep inside yourself, how to get through and out and free. You just need a little faith in yourself and a little guidance to find that faith within yourself.

When you are at your wit's end, take this little book and let it guide you toward the ever-present but often elusive light at the end of the tunnel. Faith in the Valley is designed to help you find the light when you need it most—when you're in that damn tunnel. When you're most confused and in the dark and clueless as to how you got there (again!) and when you're trying to figure out not just how to get out, but stay out. For good.

Faith in the Valley has helped so many through so much that we felt it only fitting to issue this lovely gift edition to acknowledge the special place it holds in many hearts. Please share it with a friend who has served as your beacon in the past, or offer it to yourself as a reminder of the strength and wisdom you possess and can offer to others.

Iyanla
About the Author
Rev. Dr. Iyanla Vanzant, author and internationally renowned speaker, is best known for her riveting work as the host of Iyanla Fix My Life on the OWN (Oprah Winfrey Network). Oprah herself has called Iyanla, "the most powerful spiritual healer, fixer, teacher, on the planet." Oprah Winfrey has publicly acknowledged that Fix My Life and Iyanla was the turning point for the fledgling Oprah Winfrey Network. Susan Taylor, former editor-in-chief of Essence magazine calls her, "The real deal," in the arena of personal healing and spiritual growth." Elizabeth Gilbert, author of Eat, Pray, Love says, "Iyanla is a walking, talking, miracle in heels, who carries the energy to heal the masses." Many of the 2.8 million people who follow her on Facebook lovingly call her, "auntie," yet if you ask Iyanla she would say, "I am just an ordinary person committed to doing extraordinary things as a demonstration of what is possible when you love God, have faith in yourself, and trust the amazing process called life."

As the Founder and Executive Director of the Inner Visions Institute for Spiritual Development, Iyanla conducts workshops and classes around the country, throughout Africa and the UK. Sharing her brand of practical spiritual wisdom, a blend of ancient African wisdom and universal principles, Iyanla has touched the minds and heart of more than 8 million readers in 23 languages. Her latest venture, the creation of MasterPeace Body Therapy, a line of natural body care products has received rave reviews on HSN.

Cooking and making scrapbooks are her guilty pleasures. Studying the Bible and other sacred texts is the foundation of her life. Iyanla cherishes her collection of over 100 Bibles in various translations. Watching re-runs of Law and Order is her joy. Spending time with her grandchildren and doing her own laundry is what keeps her grounded. Knowing that she is on purpose; loving what she does; doing everything with excellence; is what Iyanla Vanzant says makes her the woman that she is today.
Praise For Faith in the Valley: Lessons for Women on the Journey to Peace…
Joan Brady author of God on a Harley Faith in the Valley is a healing balm, skillfully applied to our deepest and oldest wounds. Iyanla Vanzant gently takes our attention off the negative thoughts which have left so much pain and destruction in their wake, and restores a new resiliency to our souls. She leaves us ready to receive love again...our own and that of others.

Julia A. Boyd author of In the Company of My Sisters Wisdom, courage, and faith sprinkled with lots of blessings and love: the message of Iyanla Vanzant comes right from the heart and goes straight to the soul. Iyanla truly loves and cares about us sisters and it shows. Thank you, sister Iyanla, for your gifts.