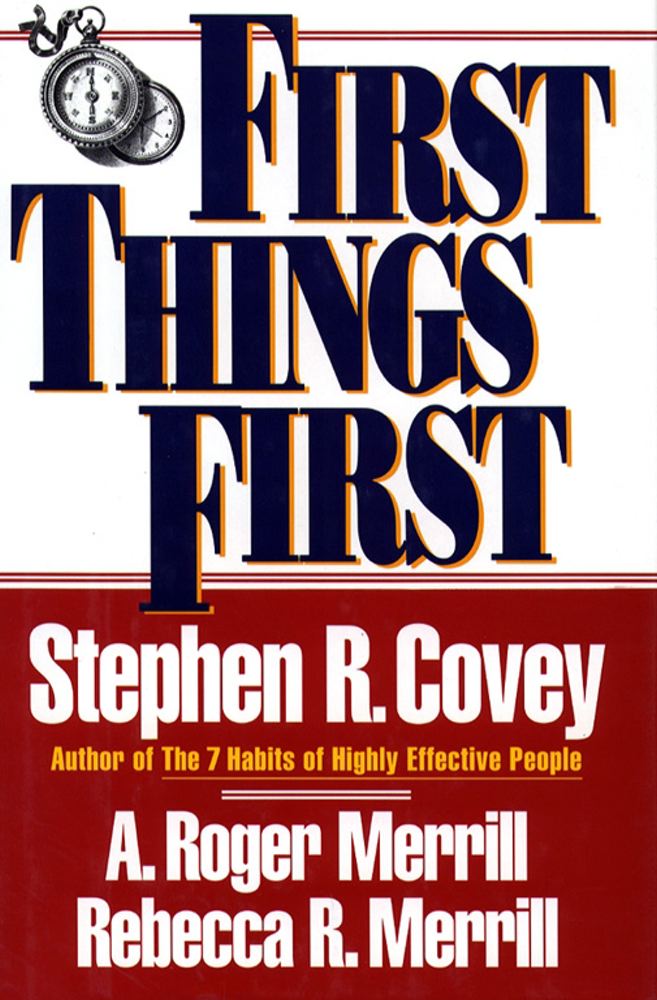 First Things First (Paperback)
Free Press, 9780684802039, 384pp.
Publication Date: January 17, 1996
* Individual store prices may vary.
Description
From the author that brought you the New York Times bestseller The 7 Habits of Highly Effective People comes a guide to prioritizing your personal and professional goals.

I'm getting more done in less time, but where are the rich relationships, the inner peace, the balance, the confidence that I'm doing what matters most and doing it well?

Does this nagging question haunt you, even when you feel you are being your most efficient? If so, First Things First can help you understand why we so often prioritize things that are unimportant to both our larger goals and our inner happiness. From the author that brought you the New York Times bestseller The 7 Habits of Highly Effective People comes a guide to building your work on the principles of effectiveness so that your life can spent cultivating genuine relationships, investing in pursuits you enjoy, and achieving balance in both your personal and professional lives.

In First Things First, Stephen M. R. Covey advocates categorizing tasks by urgency and importance so that you can focus on what actually needs to be done in the limited amount of time that you have. Using personal examples and insight from years of business experience, he argues for a new way of looking at your "to-do" list. Rather than offering you another clock, First Things First provides you with a compass, because where you're headed is more important than how fast you're going.
About the Author
Recognized as one of Time magazine's twenty-five most influential Americans, Stephen R. Covey (1932–2012) was an internationally respected leadership authority, family expert, teacher, organizational consultant, and author. His books have sold more than twenty-five million copies in thirty-eight languages, and The 7 Habits of Highly Effective People was named the #1 Most Influential Business Book of the Twentieth Century. After receiving an MBA from Harvard and a doctorate degree from Brigham Young University, he became the cofounder and vice chairman of FranklinCovey, a leading global training firm.

A. Roger Merrill, cofounder of the Covey Leadership Center (now FranklinCovey), has more than forty years of experience as a line manager, senior executive, executive coach, consultant, and teacher. Roger is the author of Connections: Quadrant II Time Management, coauthor of The Nature of Leadership and Life Matters: Creating a Dynamic Balance of Work, Family, Time, and Money.

Rebecca A. Merrill has served in numerous leadership positions in community, education, and women's organizations. Coauthor of Connections: Quadrant II Time Management, she also assisted Stephen R. Covey on The 7 Habits Highly Effective People.
Praise For First Things First…
Larry King Covey Leadership Center has reached the apex with this publication. This is an important work. I can't think of anyone who wouldn't be helped by reading it.

Dr. Michael Hammer Coauthor Of Re-engineering The Corporation New ways of working demand new ways of managing our lives. Stephen Covey and his colleagues show us the path and illuminate it with wisdom and insight.

Scott Degarmo Editor-in-chief, Success Magazine Profound and powerful, First Things First shines a brilliant light into the semi-darkness of time-management techniques. Instead of seeing fragments of our lives, we can now see the whole picture. This book can be the lever with which you can truly change your life.