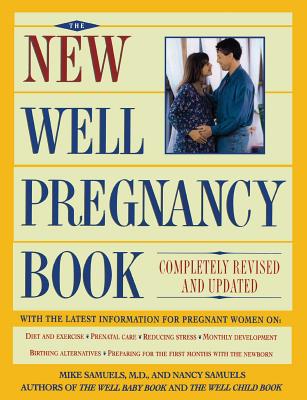 New Well Pregnancy Book (Paperback)
Completely Revised and Updated
Atria Books, 9780684810577, 496pp.
Publication Date: June 18, 1996
* Individual store prices may vary.
Description
Now fully revised and updated to reflect the changing developments in obstetrics, The New Well Pregnancy Book is the best and most comprehensive book available for expectant parents. Written by Mike Samuels, M.D., and Nancy Samuels, authors of the bestselling Well Baby Book and Well Child Book, The New Well Pregnancy Book covers the physical and emotional stages of pregnancy, labor, and delivery, including information on:
* RELAXATION AND NATURAL CHILDBIRTH TECHNIQUES
* THE MOTHER'S EXPERIENCE OF LABOR AND DELIVERY
* CESAREAN SECTION, PREGNANCY IN WOMEN OVER 35, AND HIGH-RISK PREGNANCIES
* BREASTFEEDING -- HOW TO PREPARE AND HOW TO GET STARTED
* FULL INFORMATION ON THE EFFECTS OF NUTRITION, EXERCISE, SEX, SMOKING, CAFFEINE, DRUGS, AND ENVIRONMENTAL SUBSTANCES DURING PREGNANCY
The New Well Pregnancy Book also contains the latest information on the new prenatal tests and medical procedures, and the changing attitudes and preferences of new mothers, all in the down-to-earth, accessible style that the authors are known for. Their ultimate goal is to give parents a positive view of pregnancy and childbirth and help them experience the joys of this wonderful time.
About the Author
Mike and Nancy Samuels have long been committed to teaching people how to have control over their own health, and have been among the strongest advocates in the medical establishment for preventive medicine education and self-care. Mike Samuels, M.D., is a graduate of Brown University and the New York University College of Medicine. Nancy Harrison Samuels, who died in 1993, was a graduate of Brown University and the Bank Street College of Education. They are the authors of The Well Baby Book, The Well Child Book, and The Well Adult. Mike Samuels lives in Bolinas, California.