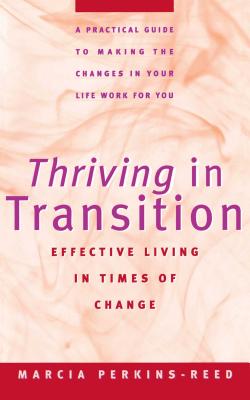 Thriving in Transition (Paperback)
Simon & Schuster, 9780684811895, 272pp.
Publication Date: March 22, 2002
* Individual store prices may vary.
Description
Fundamental life changes such as these were once viewed as momentary interruptions in an otherwise stable life pattern. Today, such transitions are becoming an increasingly prevalent part of our lives and require that we find new skills to adapt to them.
Thriving in Transition is a uniquely practical, holistic approach to negotiating these forces of change successfully. Drawing on principles of psychology, spirituality, physics, organizational development, and her own research, Marcia Perkins-Reed has discovered strategies that enable people not only to survive multiple, simultaneous changes, but actually thrive in an environment of constant change. She outlines a six-phase model of the transition process and describes the traits that make up the "Thriver Profile" to show how to turn stress-causing transitional periods into times of growth and regeneration. Each chapter includes a checklist or summary of key points to assist readers in applying the model concepts to their own lives.
Thriving in Transition is an indispensable guide to helping us embrace, rather than resist, the complex circumstances of our ever-changing world, and thus forge more peaceful and fulfilling lives.