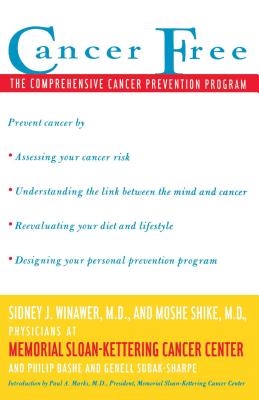 Cancer Free (Paperback)
The Comprehensive Cancer Prevention Program
Touchstone Books, 9780684815121, 416pp.
Publication Date: March 26, 1996
* Individual store prices may vary.
Description
If you think there's no way to prevent cancer, you're wrong. Let the experts at the world's most distinguished cancer research and treatment center help you to design a personal program to increase your odds of staying cancer free.
* Take stock of your personal risk. Use a family tree and other charts to assess your risk for the major cancers -- and keep a predisposition from turning into a disease.
* Redefine "The good life" to give yourself a long life. Enjoy the benefits of physical activity without becoming an exercise nut.
* Safeguard your work and home environments. Discover how to use common household products safely.
* Reduce the toll of stress. Learn the basics -- without the bunk -- about visualization, biofeedback, acupuncture, and hypnotherapy.
* Adopt sensible screening procedures. Learn which common tests you should have, when, and why.
Clear, concise, and comprehensive, Cancer Free explains exactly what you can do for your health, now and for the decades to come.
About the Author
Sidney J. Winawer, M.D., is chief of the gastroenterology and nutrition service at Memorial Sloan-Kettering Cancer Center. He is also a professor of medicine at Cornell University Medical College.