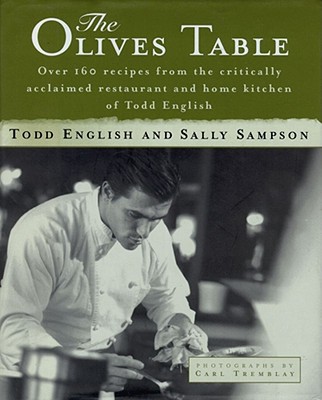 The Olives Table (Hardcover)
Simon & Schuster, 9780684815725, 368pp.
Publication Date: March 12, 1997
Other Editions of This Title:
Paperback (8/19/2017)
* Individual store prices may vary.
Description
In The Olives Table, the artistry of one of America's top chefs is on display, with more than 160 dazzling recipes from Olives and from Todd's home kitchen, illustrated with beautiful photographs by Carl Tremblay.

In 1989, Todd English and his wife Olivia opened the original Olives; since then the restaurant has moved to larger quarters, and Todd and his bold, inventive Mediterranean-inspired cooking have earned an international reputation. Voted one of the Top Ten Restaurants by Esquire magazine and the Best New Restaurant by Boston magazine, it has also been voted Favorite Restaurant in the Zagat Guide to Boston and Vicinity.

Todd's robust, intensely flavored food begs to be savored and shared with others. And since the complexity of English's cooking comes from the layering of tastes and textures—not exotic equipment or techniques—by following the careful, step-by-step instructions, even the timid cook can recreate the dishes that the patrons of English's hugely popular Boston restaurant enjoy at the Olives table.

Pull out the stops and begin a meal with Todd's signature Olives Tart, baked in a crisp crust and rich with olives and creamy goat cheese, pair Gingered Slow-Braised Lamb Shanks with Apple-Fennel Mashed Potatoes for your main course, and finish with Falling Chocolate Cake with Raspberry Sauce. Or for a lighter repast, try Pan-Fried Cornmeal-and-Cumin-Rubbed Cornish Game Hens served with Arugula Salad with Tomato and Cucumber Juice; finish with Mango-Raspberry Granita. Plan a simple but deeply satisfying supper of Roasted Clams with Chicken, Tomatoes, Artichokes, and Bacon served with roasted new potatoes and end with Gingersnap Risotto Pudding. Whatever meal you decide to create from these recipes, you won't be disappointed.
Praise For The Olives Table…
Marco R. Della Cava USA Today One of the nation's best restaurants.

Sheila Lukins author of Sheila Lukins' All Around the World Cookbook, coauthor of the Silver Palate cookbooks Just between us chickens, there's nothing more alluring that I can think of right now than immersing myself in the culinary delights of Todd English. From the first moment I walked into Olives and nibbled on the namesake, an explosion of flavor led the way. I've longed to follow every chance I've had.

Paula Wolfert author of The Cooking of the Eastern Mediterranean and Couscous and Other Good Food from Morocco A stunning presentation of the big, bold flavors that make Todd English one of my favorite chefs. The recipes are clear, authoritative, and delicious.

Jasper White author of Jasper White's Cooking from New England and Lobster at Home Todd and Sally have made Olives' food come alive in this collection of bold flavors and lusty food combinations. Todd puts his mark on every recipe, never missing the chance to intensify the flavor or texture of a dish. Reading these recipes made me unbearably hungry...deep-fried stuffed olives, Parmesan pudding, butternut squash tortelli, rabbit agrodolce, marinated lamb with olive bruschetta...This book will make you want to rush to a market and back home again to start cooking.

Lydia Shire chef-owner of Biba and Pignoli This book is Todd. Who else would describe their love of cooking as "lust"?...Just try the foie gras flan to believe it or char the skin of a fig while the gorgonzola oozes.

1996 Zagat Guide to Boston and Vicinity Food that will take your breath away.

Barbara Kafka author of Roasting: A Simple Art Todd English is a wonderful cook based in a strong tradition of peasant flavors, often Italian; he is inventive and so is the food in this book.

John Willoughby and Chris Schlesinger coauthors of The Thrill of the Grill and License to Grill Todd English has achieved a feat that eludes many top-level chefs: He has transformed the robust, gutsy food of his restaurant into recipes for the home cook. Todd's vision of his food is right here in these pages.
or
Not Currently Available for Direct Purchase