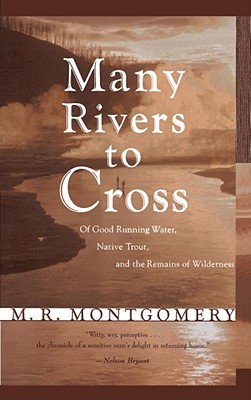 Many Rivers to Cross
Of Good Running Water, Native Trout, and the Remains Of Wilderness
Paperback

* Individual store prices may vary.
Description
Thoughtful, witty, and beautifully written, Many Rivers to Cross details M.R. Montgomery's journey into the physical and emotional territory of the American West as he explores the meaning and experience of wilderness.
Montgomery's travels take him from the headwaters of the Columbia River to eastern Oregon and to Big Goose Creek, where General Custer's reinforcements camped and went fishing instead of joining the battle at Little Bighorn. He guides us through overlooked locations in Montana, Wyoming, Idaho, New Mexico, Arizona, and Oregon -- all of the last best places. And of course there is the ever-present quest for trout, from the Bonneville cutthroat to the rare Apache.
There are indeed many rivers to cross, and M.R. Montgomery shows us that each is in just the right place.
Praise For Many Rivers to Cross: Of Good Running Water, Native Trout, and the Remains Of Wilderness…
Leonard Wright, Jr. Editor of The Fly Fisher's Reader The voice of the true trout fisher -- one that exhorts us all to what the sport is really all about. A crisply written, brilliantly conceived, landmark book.

Bill Mckibben Author of The End of Nature Montgomery catches some fish in this book, of course -- but he also catches mood, angle of light, tang of longing. If your next wilderness vacation is six months away, this will keep you sane.
Touchstone, 9780684818290, 256pp.
Publication Date: March 18, 1996
About the Author
M.R. Montgomery has been a journalist with The Boston Globe since 1975 and is the author of several previous books. He lives in Lincoln, Massachusetts.