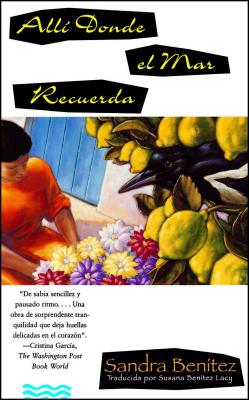 Alli Donde Recuerda El Mar (Place Where the Sea Remembers) (Paperback)
Touchstone, 9780684823881, 160pp.
Publication Date: April 3, 1996
Other Editions of This Title:
Paperback (2/5/1995)
Hardcover (9/1/1993)
* Individual store prices may vary.
Description
Allí Donde el Mar Recuerda es un relato obsesionante de amor, ira, esperanza, y tragedia cuyos personajes subsisten mucho después de haber leído la última página. En el corazón del relato está Chayo, la vendedora de flores, y su esposo, Candelario, el ensaladero, quienes esperan que al fin Dios los bendiga con el hijo que pensaron nunca tendrían. Sin embargo, el motivo de su felicidad provoca una cadena de sucesos que marca las vidas de todos los habitantes de Santiago, una aldea mexicana. Sus esperanzas, triunfos, defectos, y fracasos hacen una impresión imborrable de un mundo en cual el destino puede depender del más mínimo hecho. Allí Donde el Mar Recuerda, un asombroso debut por una nueva voz en el género novelístico de América, es un libro que nunca olvidará.
About the Author
Sandra Benitez
"I spent my life moving between the Latin American culture of my
Puerto Rican mother and the Anglo-American culture of my father.
I was born on March 26, 1941 in Washington, D.C., one of a pair of
identical twins. My sister died only a month after our birth. A year
later my parents and I moved to Mexico where another sister was born.
My childhood and early adulthood were spent in Mexico and El Salvador.
When I think of those years, the images that come to me are awash in
the color saffron: the Spanish language, the permeable scent of cedar
and leather, the shimmering heat, the color of the women in the household,
the stories they told, the lives they shared.
"In Latin America, I learned that life is frail and most
always capricious, that people find joy in the midst of insurmountable
obstacles, that in the end, it is hope that saves us.
"When I became a teenager, I was sent to live for three
years on my paternal grandparents' farm in Northeastern
Missouri, and this is where I attended high school. I was the first
Latina the people there had ever known. Those years live for me
in a pale blue light: the thin sheen the setting sun casts on the
snow banks, the color of my father's eyes, the doleful bawl a cow
makes when it has lost its calf, the back-breaking work that is the
farmer's lot.
"In Missouri, I learned that life is what you make it, and
that satisfaction comes with a job well done, that in the end,
it is steadfastness that saves us."
"I received my undergraduate and master's degrees from
Northeast Missouri State University. Over the years I have been
an English, Spanish, and Literature teacher at both high school
and university levels. I have been a translator, and I have worked
in the international division of a major training corporation. I
have traveled extensively throughout Latin America. Since 1980,
I have been a fiction writer and a creative writing teacher. I have
two grown sons and I live with my husband in Minnesota."
"I came to writing late. I was thirty-nine before I gathered
enough courage to begin. When I hear other writers talk about
writing, I'm amazed by those who say they always knew they had
to write. When I was a girl, I never wished to do it. Being a writer
was something magical I never dreamed I could attain. But while
growing up, I frequently had a book in my lap -- and so I was
linked even then to writing and to the spell that stories cast. I
didn't know a writing life was lying in store for me. I had to live
and grow before I caught the faint call. Since heeding the call,
I've worked hard at being faithful to it, for writing is an act of
faith. We must keep faith each day with our writing if we want to
be called writers.
"Since I've been writing I've searched what's in my heart
and its from that core that I write and not from what seems
marketable. I am a Latina American. In my heart are stored the
stories of my Latin American and Missourian heritage -- of a
childhood lived in Mexico and El Salvador. When I write, I have to
suppress the knowledge that mainstream America often ignores
the stories of 'the other America.' Over the years, I've learned to
write from the heart, to persevere despite the setbacks of a host
of rejections.
"In the end, I've learned these things about writing: its
never too late to begin; we know all we need to know in order to
do it; persistence and tenacity will take us all the way. There are
angels on our shoulders, be still to catch their whisperings."
Reading Group Discussion Points
Other Books With Reading Group Guides
Praise For Alli Donde Recuerda El Mar (Place Where the Sea Remembers)…
Chris Bohjalian The New York Times Book Review Maravillosamente realizada...merece un lugar junto a la nueva e hipnotizante literatura con raíces en la América Latina.

Jane St. Anthony Minneapolis Star Tribune Un regalo para los lectores quienes esperan la verdad en sus novelas.

Denise Chávez El mundo de Sandra Benítez es un mundo conmovedor, apasionado, agridulce. En él no hay don nadies. Sus personajes son magníficos, compasivos, criaturas con almas arraigadas a la costa.