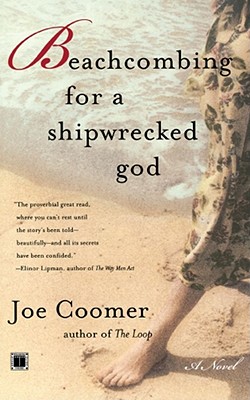 Beachcombing for a Shipwrecked God (Paperback)
Touchstone Books, 9780684824406, 256pp.
Publication Date: May 7, 1997
Description
Nine weeks after losing her husband, Charlotte escapes to a wooden motor yacht in New Hampshire, where her shipmates are an aging blue-haired widow, an emotional seventeen-year-old, and the ugliest dog in literature. A genuine bond develops among the three women, as their distinct personalities and paths cross and converge against the backdrop of emotional secrets, abuse, and the wages of old age.
Off the boat, Charlotte, an archaeologist, joins a local excavation to uncover an ancient graveyard. Here she can indulge her passion for reconstructing the past, even as she tries to bury her own recent history. She comes to realize, however, that the currents of time are as fluid and persistent as the water that drifts beneath her comforting new home.
About the Author
Joe Coomer is the author of The Loop, a New York Times Book of the Year; A Flatland Fable; and an award-winning work of nonfiction, Dream House. He lives in Springtown, Texas, and Eliot, Maine.
Praise For Beachcombing for a Shipwrecked God…
Elinor Lipman
author of The Way Men Act

The proverbial great read where you can't rest until the story's been told -- beautifully -- and all its secrets have been confided.


Tom Pilkington
Dallas Morning News

An entertaining, provocative read.


Judyth Rigler
Fort Worth Star Telegram

A captivating novel...provocative and life-affirming.
Advertisement