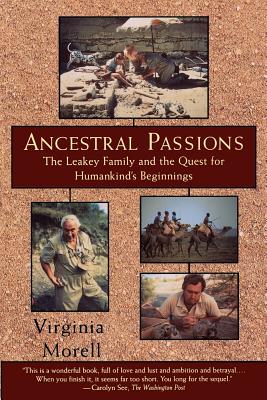 Ancestral Passions
The Leakey Family and the Quest for Humankind's Beginnings
Paperback

* Individual store prices may vary.
Description
In this fascinating and authoritative work, acclaimed science writer Virginia Morell brings to vivid life the famous and infamous Leakey family, pioneers in the field of paleoanthropology: Louis Leakey, the patriarch, who persisted through initial scientific failures and scandal-ridden divorce to achieve spectacular success in digs throughout East Africa; Mary, his second wife, who worked alongside Louis as they made their outstanding discoveries at Olduvai Gorge and elsewhere; and Richard, their son, who ascended to the top of the field in his parents' wake, only to be threatened with both near-fatal illness and fierce professional rivalry. Morell transports us into the world of these compelling personalities, demonstrating how a small clan of highly talented and fiercely competitive people came to dominate an entire field of science and to contribute immeasurably to our understanding of the origins of humanity.
Touchstone, 9780684824703, 640pp.
Publication Date: August 14, 1996
About the Author
Virginia Morell is a regular contributor to National Geographic magazine and a contributing correspondent to Science. She has also written for Smithsonian, Discover, The New York Times Magazine, International Wildlife, Audubon, Slate, and Outside, among other publications. She and her husband, writer Michael McRae, live in southern Oregon, on the edge of the Siskiyou Mountains, where they hike every day with their Scotch Collies, Buckaroo and Annie Oakley.