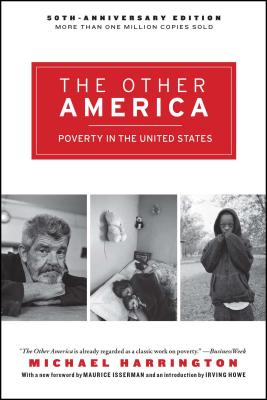 The Other America
Paperback

* Individual store prices may vary.
Description
In the fifty years since it was published, The Other America has been established as a seminal work of sociology. This anniversary edition includes Michael Harrington's essays on poverty in the 1970s and '80s as well as a new introduction by Harrington's biographer, Maurice Isserman. This illuminating, profoundly moving classic is still all too relevant for today's America.

When Michael Harrington's masterpiece, The Other America, was first published in 1962, it was hailed as an explosive work and became a galvanizing force for the war on poverty. Harrington shed light on the lives of the poor—from farm to city—and the social forces that relegated them to their difficult situations. He was determined to make poverty in the United States visible and his observations and analyses have had a profound effect on our country, radically changing how we view the poor and the policies we employ to help them.
Praise For The Other America…
"An excellent book—and a most important one." –The New Yorker

"Mike Harrington has made more Americans more uncomfortable for more good reasons than any other person I know. For most people, that would be achievement enough. But for Mike it was only the beginning—because the more he saw that was wrong with America, the harder he fought to make it right." –Senator Edward Kennedy

The Other America is a "scream of rage, a call to conscience." –The New York Times Book Review
Scribner, 9780684826783, 252pp.
Publication Date: August 1, 1997
About the Author
Born in Missouri in 1928, Michael Harrington was a writer, political activist, theorist, professor, commentator, and founding member of the Democratic Socialists of America. During his time as editor for New America, he wrote his seminal text The Other America: Poverty in the United States, a bestseller that has been credited for sparking the War on Poverty. A frequent writer, Harrington wrote fifteen books and has had articles publishes in journals such as The New Republic, The Nation, and many others. He married in 1963 and had two children. He died in 1989.