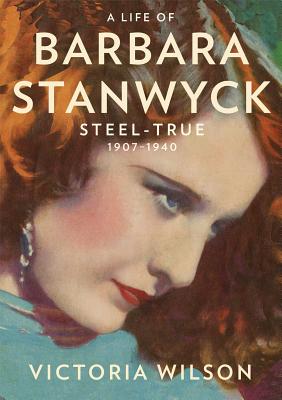 A Life of Barbara Stanwyck
Steel-True 1907-1940
Hardcover

* Individual store prices may vary.
Other Editions of This Title:
Paperback (11/24/2015)
Description
Fifteen years in the making, the first volume of the full-scale astonishing life of one of our greatest screen actresses whose career in pictures spanned four decades beginning with the coming of sound—the first to delve deeply into Stanwyck's rich, complex life and to explore her extraordinary range of eighty-eight motion pictures, many of them iconic; her work, her world, her Hollywood through an American century.

Frank Capra called her "The greatest emotional actress the screen has yet known." She was one of its most natural, timeless, and underrated stars. Now, Victoria Wilson gives us the first full-scale life of Barbara Stanwyck, whose astonishing career in movies (eighty-eight in all) spanned four decades beginning with the coming of sound, and lasted in television from its infancy in the 1950s through the 1980s—a book that delves deeply into her rich, complex life and explores her extraordinary range of motion pictures, many of them iconic. Here is her work, her world, her Hollywood.

We see the quintessential Brooklyn girl whose family was in fact of old New England stock . . . her years in New York as a dancer and Broadway star . . . her fraught mar­riage to Frank Fay, Broadway genius, who influenced a generation of actors and comedians (among them, Jack Benny and Stanwyck herself ) . . . the adoption of a son, embattled from the outset; her partnership with the "unfunny" Marx brother, Zeppo, crucial in shaping the direction of her work, and who, together with his wife, formed a trio that created one of the finest horse-breeding farms in the west; her fairy-tale romance and marriage to the younger Robert Taylor, America's most sought-after— and beautiful—male star.

Here is the shaping of her career with many of Hol­lywood's most important directors: among them, Frank Capra, "Wild Bill" William Wellman ("When you get beauty and brains together," he said, "there's no stopping the lucky girl who possesses them. The best example I can think of is Barbara"), King Vidor, Cecil B. De Mille, and Preston Sturges, all set against the times—the Depression, the New Deal, the rise of the unions, the advent of World War II—and a fast-changing, coming-of-age motion picture industry.

And here is Stanwyck's evolution as an actress in the pictures she made from 1929 through the summer of 1940, where Volume One ends—from her first starring movie, The Locked Door ("An all-time low," she said. "By then I was certain that Hollywood and I had nothing in common"); and Ladies of Leisure, the first of her six-picture collaboration with Frank Capra ("He sensed things that you were trying to keep hidden from people. He knew. He just knew"), to the scorching Baby Face, and the height of her screen perfection, beginning with Stella Dallas ("I was scared to death all the time we were making the pic­ture"), from Clifford Odets's Golden Boy and the epic Union Pacific to the first of her collaborations with Preston Sturges, who wrote Remember the Night, in which she starred.

And at the heart of the book, Stanwyck herself—her strengths, her fears, her frailties, her losses and desires; how she made use of the darkness in her soul in her work and kept it at bay in her private life, and finally, her transformation from shunned outsider to one of Holly­wood's—and America's—most revered screen actresses.

Writing with the full cooperation of Stanwyck's family and friends, and drawing on more than two hundred interviews with actors, directors, cameramen, screen­writers, costume designers, et al., as well as making use of letters, journals, and private papers, Victoria Wilson has brought this complex artist brilliantly alive. Her book is a revelation of the actor's life and work.
Praise For A Life of Barbara Stanwyck: Steel-True 1907-1940…
"860 glittering pages... it ends with a cliffhanger, creating eager anticipation for Ms. Wilson's concluding volume... 'A Life of Barbara Stanwyck: Steel-True, 1907-1940' is not about the actress alone. It's bigger and splashier. Stanwyck knew the most notable directors, writers, actors, studio chiefs and Broadway impresarios of her day, and Ms. Wilson is interested in all of them. A remarkable array of still photographs present supporting characters like Florenz Ziegfeld, Annie Oakley, Clark Gable and Zeppo Marx, all of whom have their places in this account. An even more startling collection of movie ads and posters tells a riveting tale of sexism (about 'Baby Face': 'You've never seen anything like this frank, man-to-man story of a man-to-man girl!'), even as they chronicle Stanwyck's career... The book describes how she evolved from an emotion-wringing actress into a sullen, bad-girl bombshell into Stella Dallas, arguably the most soapily self-sacrificing mother ever seen on camera... Regarding Ms. Wilson's follow-up, no studio's publicity department could offer a better set of coming attractions."
— Janet Maslin

"I finished your book last night with a SIGH. I wanted Volume Two immediately. What a wonderful book. I didn't really know much about Barbara Stanwyck and now I can't wait to see all her movies, having only seen a very few. Many congratulations on writing such a good, good book."
— Andre Bishop

"Barbara Stanwyck was one of the very great loves of my life and Victoria Wilson's book told me so much more than Barbara herself could tell anybody. She has captured her loyalty--her professionalism--her anger and her undeniable will to stay in the game of life and, perhaps most importantly--her loneliness. Victoria has been 'steel true' to her."
— Robert Wagner

"An epic Hollywood narrative about the craft, politics and business of the industry, with Stanwyck at its center. A compelling, complicated, read… worth the journey."
— Bill Desowitz

"In 'A Life of Barbara Stanwyck,' the accretion of detail, told simply and unemotionally, builds a living thing. A Life of Barbara Stanwyck: Steel - True 1907-1940' does detail her life…But the book is also a life of Hollywood during the 1930s and America during the Depression and the way the dream factory and reality interact."
— Aljean Harmetz

"Victoria Wilson's monumental Life of Barbara Stanwyck is not only an extraordinarily well researched and documented biography of a great star actress from the Golden Age of Hollywood, it is also a vivid portrait of the entire era in which she flourished. Her films and her private life are both chronicled in great detail in this excellently written work, the first of a two-volume labor of love that will surely stand as definitive on an important subject, Stanwyck being perhaps the most modern of all female screen stars."
— Peter Bogdanovich

"If ever there was an actress who was ready for prime time, it is Stanwyck, and this enormously informative tribute -- juicy, yet dignified, admiring yet detached – is the book to bring her to center stage."
— Molly Haskell

"This biography, when completed, will be the last word on Stanwyck."
— Leonard Maltin

I had a great time reading about Miss Stanwyck. . .what a fabulous endeavor. I marveled at the work involved. You gave me a terrific read, and I thank you sincerely.
— Art Garfunkel

"Wilson gives us an appropriately large, thrilling, and sensitive biography to go with this staggering career. . . . What she discovered—and shares in this indelible, revelatory book—is an artist's extraordinary transformation from homeless child to one of the most magnetic stars in the history of Hollywood."
— Michael Lindsay-Hogg

"I was blown away, absorbed, riveted. What great smooth style, what brilliance, what depth. I collect celebrity biographies and this one is transcendent. This is huge and wonderful and rich. What an achievement!"
— Anne Rice

"Altogether magnificent and, one might argue, different in kind from everything available about others in her sisterhood. And that's true even though it stops in 1940 before so many of Stanwyck's greatest achievements in "The Lady Eve," "Meet John Doe" and "Double Indemnity."
— Jeff Simon

"I am loving your Barbara Stanwyck--you bring that whole period of time so brilliantly to life. I am already in love with her and so so angry at Frank Fay! Thank you for this wonderful, delicious book!"
— Susan Cheever

"You've really done it. It's one of the handful of truly definitive works about a great American actor. As such, it will doubtlessly come to be considered a classic. It's everything I expected it to be – immensely detailed, authoritative, and compulsively readable. Stanwyck chose not to write her own book, but you've done it for her. She would have every reason to be grateful, as do your readers."
— James Curtis

"One hopes that the wait for Ms. Wilson's second volume won't be as long as World War II, since 'Steel-True' is so readable, and as direct as its subject. I couldn't put it down. . ."
— Cathy Horyn

"The quintessential Hollywood story about a girl from nowhere who became a legendary film star through talent, hard work and determination to stay at the top. It is also a fascinating, three-dimensional portrait of theatre and film in the extravagant l930s, written with thoroughness and insights: a stunning achievement."
— Meryle Secrest

"Richly researched, this biography offers insights into the strengths and insecurities of a woman famous for her trademark toughness and vulnerability. Photographs enhance this fabulous and expansive examination of the life of an iconic American actress."
— Booklist starred review

"Your book is wonderful! The no-nonsense, hard working woman that was Missy, is so well described. The Hollywood history and the stories behind Missy's individual movies were so interesting and informative. I can't wait to start watching them again and will do so with your book on my lap. From cover to cover the book was entertaining, informative and just good reading…This will be a treasure for our family and the many generations to come."
— Christine Presley

"Monumental in every sense. . .sweeping and Authoritative . . .written with verve and with great empathy and relish for her subject. The author loves Barbara Stanwyck, but she is also shrewd about the actress's complexity and human limitations. Wilson knows all the facts, but she is never overwhelmed by them, and, throughout, she is smart about the films and about the history and business of Hollywood in the Golden Age. Not the least of her achievement is leaving the reader eager to read volume two."
— Foster Hirsch

"Steel-True courts the definitive…The voice of Steel-True is passive, reportorial, almost choral. Applied to Wilson's landmark recovery and synthesis of 1920s and '30s Broadway and Hollywood history, it works beautifully…Wilson is a bold and determined architect, and ultimately succeeds in tracing, via some of Hollywood's most brilliant minds and celebrated careers, the evolution of both an industry and an art form during one of its most hallowed and productive periods."
— Michelle Orange

"Wilson's book is indeed a monument of research. . . . A Life of Barbara Stanwyck will unquestionably remain the biography of record; beyond Wilson's excavation of so much that would otherwise have been lost, her book has a deep sensitivity to the seriousness and subtlety of Stanwyck's craft. This is the biography not of a Hollywood phenomenon but of a serious artist."
— Geoffrey O'Brien

"What you have done is extraordinary. It is an amazing book, brilliantly written, enhancing the whole life, Barbara's life, happenings around her—people of the industry, people in the theater and in politics. The way you have shown her life to include other situations, all that you interject . . . it makes her life, to me, more historically important. My father fell in love with Barbara after he saw her in Ladies of Leisure. He loved to go to the opera and to the movies and the only star he talked about was Barbara Stanwyck. He used to say she was an incredible actress. And she was. She really was. You have brought her wonderful career magnificently to life, and as her friend, I thank you."
— Nancy Sinatra, Sr.

"An ambitious portrait of a young actress…Wilson provides a very real sense of Hollywood from the inside. She deeply scrutinizes every Stanwyck performance up to 1940, letting us see the actress work and, in some key roles, sweat…A first volume that should whet readers' appetite for the second."
— Kirkus
Simon & Schuster, 9780684831688, 1056pp.
Publication Date: November 12, 2013
About the Author
Victoria Wilson is a vice president and senior editor at Alfred Knopf, and the author of A Life of Barbara Stanwyck. She grew up on Martha's Vineyard and lives in New York City and upstate New York.
or
Not Currently Available for Direct Purchase