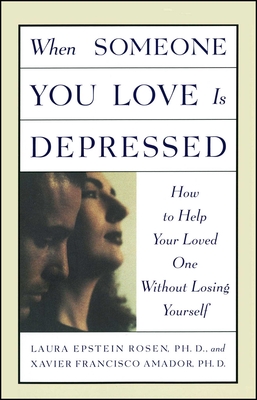 When Someone You Love is Depressed (Paperback)
Free Press, 9780684834078, 272pp.
Publication Date: September 18, 1997
* Individual store prices may vary.
Description
Many books have been written for those suffering from depression, but what if you're suffering becuase someone you love is depressed? Research shows that if you are close to a depressed person, you are at a much higher risk of developing problems yourself, including anxiety, phobias, and even a kind of contagious depression.
In this authoritative and compassionate book, psychologists Laura Epstein Rosen and Cavier Francisco Amador explain the mechanisms of depression that can cause communication breakdown, increase hostility, and ultimately destroy relationships. Through compelling real-life stories and step-by-step advice, the authors teach concrete methods that you and your loved one can use to protect yourselves and your relationship from depression's impact. Drawing on their own innovative research, the give sensitive guidance about how to recognize your needs, how to provide the best kind of support, and how to encourage the depressed person to seek treatment. Whether you are the partner, parent, friend, or child of a depressed person, you'll find this book and invaluable companion in you journey back to health.
About the Author
Xavier Amador, Ph.D., the coauthor of When Someone You Love Is Depressed and the psychology and health contributor for NBC's weekend Today show, is Director of the Diagnoses and Evaluation Center at Columbia University and the New York State Psychiatric Institute.

Laura Epstein Rosen, Ph.D., is Supervisor of Family Therapy Training at the Special Needs Clinic of Columbia Presbyterian Medical Center in New York.
Praise For When Someone You Love is Depressed…
Peter Kramer author of Listening to Prozac Doctors Rosen and Amador perfrom a valuable service by posing the important questions: How do you cope with depression when it intrudes on an intimate relationship? Their answers contain pratical wisdom that will allow readers to make concrete decisions affecting their own well-being and that of someone they love.

Herbert Pardes, M.D. Dean of the Faculty of Medicine and Vice President of Health Sciences, Columbia University College of Physicians and Surgeons A wonderfully sensitive book of benefit to the many perople in this country who suffer from the depression their families, loved ones, and friends experience. Its compassion along with its pratical problem-solving suggestions will make it invaluable.