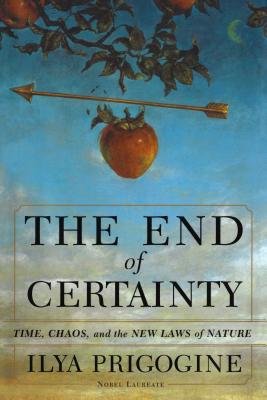 The End of Certainty (Hardcover)
Free Press, 9780684837055, 240pp.
Publication Date: August 17, 1997
* Individual store prices may vary.
Description
Time, the fundamental dimension of our existence, has fascinated artists, philosophers, and scientists of every culture and every century. All of us can remember a moment as a child when time became a personal reality, when we realized what a "year" was, or asked ourselves when "now" happened. Common sense says time moves forward, never backward, from cradle to grave. Nevertheless, Einstein said that time is an illusion. Nature's laws, as he and Newton defined them, describe a timeless, deterministic universe within which we can make predictions with complete certainty. In effect, these great physicists contended that time is reversible and thus meaningless.
About the Author
Viscount Ilya Prigogine, Nobel Prize winner in chemistry, is the Director of the Ilya Prigogine Center of Statistical Mechanics, THermodynamics and Complex Systems in Austin, Texas, and the Director of the Solvay Institutes of Physics and Chemistry in Brussels. The recipient of honorary degrees from more than forty universities around the world, Prigogine has had five institutes devoted to the study of complex systems named for him. He lives in Brussels and Austin.
Praise For The End of Certainty …
Oliver Sacks "Prigogine is a pioneer of chaos and self-organization theory, and his vision is as revolutionary and fundamental as Darwin's. With a fascinating blend of the conceptual, historical, and personal, he gives us a rare and privileged glimpse into one of the most adventurous scientific imaginations of our time."
or
Not Currently Available for Direct Purchase