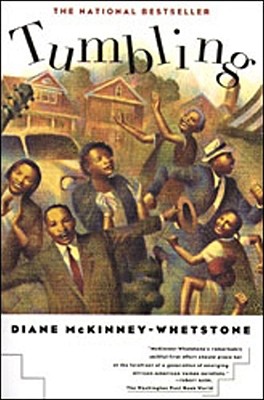 Tumbling (Paperback)
Scribner, 9780684837246, 352pp.
Publication Date: April 9, 1997
Other Editions of This Title:
Digital Audiobook (9/20/2012)
Paperback (6/29/2010)
Hardcover (4/15/1996)
* Individual store prices may vary.
Description
Diane McKinney-Whetstone's lyrical first novel, Tumbling, vividly captures a tightly knit African-American neighborhood in South Philadelphia during the forties and fifties. Its central characters, Herbie and Noon, are a loving but unconventional couple whose marriage remains unconsummated for many years as Noon struggles to repossess her sexuality after a brutal attack in her past. While she seeks salvation in the church, Herbie gains sexual gratification in the arms of a bewitching jazz singer named Ethel, a woman who profoundly affects both Noon's and Herbie's lives when she leaves with them, first, a baby girl and then later, a five-year-old named Liz.
When a road planned by the city council threatens to break up this South Philadelphia neighborhood, the community must band together. Unexpectedly, Noon rises up and takes the lead in the opposition, fighting for all she's worth to keep her family and community together.
Tumbling is a beautiftilly rendered, poignant story about the ties that bind us and the secrets that keep us apart. With striking lyricism, Diane McKinney-Whetstone keenly guides us through the world of community, family, and the human heart.
About the Author
Diane McKinney-Whetstone:
When I started writing
Tumbling
, I had not given much thought to the time and place for the
setting of the story. Actually, I didn't even know what the story would be. I was only sure of
this: that I was approaching a significant birthday, that I'd always nursed a passion for writing
fiction, that I was using more energy forestalling my dream of writing a novel than it would
take just to sit down and start.
So I started. I got up at 5:00 every morning and spent two magical hours before it was time to
wake my teenage twins and dash off to my day job. I was unprepared for the unleashing that
happened--like a bottle of champagne uncorked, descriptions spilled all over the page. I soon
realized I was writing about my mother's time--South Philadelphia, 1940s-'50s. I'd grown up
with her stories about her clean, safe, close-knit neighborhood complete with her descriptions
of the stepscrubbing ritual. It seemed like such a vibrant era-the clubs, the music, the
excitement of the end of the war. And even though the era had a tremendous downside of
forced segregation for African-Americans, it was also a time of community connectedness. I
was also raised in the city, in a close-knit neighborhood, so I was able to draw on my
experiences as well.
Once I pinned down the setting, the characters took over--literally. They did unexpected things
on the page, they pulled the story one way, then another. I was losing control of the novel it
seemed. For example, I didn't--absolutely did not--want Herbie to run around with Ethel. I
liked Herbie too much for that, but the attraction between the two was on the page; it was
as if they were saying, "You, author, have no sayso here, just let us be true to our characters."
So I did. I began to trust the process of writing. It became okay for the novel to twist and
turn in directions I had not planned. I even began to welcome those times because the
unplanned actions were emerging as the strongest parts of the story.
For two years between 5:00 and 7:00 in the morning, I put the rest of my life on hold, my job
as a public affairs officer, my children, my husband, my volunteer commitments; I immersed
myself in the world of
Tumbling
instead. I followed the characters; I learned so much, about
writing for sure, but also about the big human themes--love and hate, good and evil, and
compassion, human nature, myself. What a powerful act of self-discovery writing this book
has been.
Reading Group Discussion Points
Other Books With Reading Group Guides
or
Not Currently Available for Direct Purchase