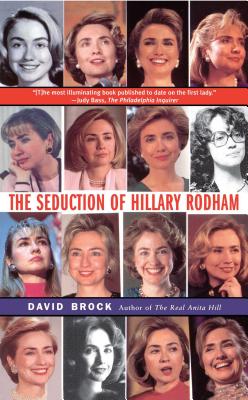 The Seduction of Hillary Rodham (Paperback)
Free Press, 9780684837703, 464pp.
Publication Date: February 2, 1998
* Individual store prices may vary.
Description
No public figure in contemporary life has elicited more polarized reactions than Hillary Rodham Clinton. The first presidential spouse who pursued a major policymaking role, the beleaguered first lady has been a heroine and role model to her feminist allies—and a malevolent, power-mad shrew to her conservative foes.
Now David Brock, America's most controversial journalist, takes on the most controversial first lady in history, producing a boldly incisive yet surprisingly sensitive portrait. A political biography of the first order, The Seduction of Hillary Rodham is the story of one strong-willed woman's struggle to maintain her personal and political integrity in the face of powerfully seductive forces, including the appeal of Bill Clinton, a charismatic, talented, but deeply flawed man who may have been both the best and the worst thing that ever happened to her.
About the Author
David Brock's hard-hitting journalism has cast him as "the Bob Woodward of the right' according to the Washington Post. He is a writer for the American Spectator and the bestselling author of The Real Anita Hill (Free Press, 1993). He lives in Washington, D.C.
Praise For The Seduction of Hillary Rodham…
Barbara Amiel The Wall Street Journal "Nothing I have read to date explains so well...how, under the cover of a respectable social goal, [institutions] can be used to manipulate people who are otherwise nonideological into supporting a radicalism intent on reengineering every aspect of American society."

Newsweek [A] nuanced portrait of the first lady.

Judy Bass The Philadelphia Inquirer [T] he most illuminating book published to date on the first lady.

Hilton Kramer New York Post A brilliant account of...how the Clintons as a team succeeded in bringing the political radicalism of the 1960s to power in Washington in the 1990s