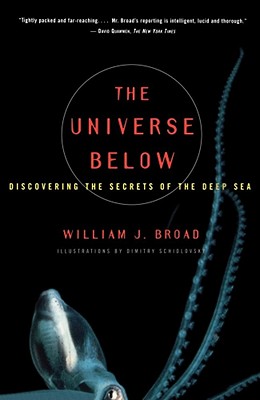 The Universe Below: Discovering the Secrets of the Deep Sea (Paperback)
Discovering the Secrets of the Deep Sea
Touchstone Books, 9780684838526, 432pp.
Publication Date: June 1, 1998
Description
Pulitzer Prize winner William J. Broad takes us on an adventure to the planet's last and most exotic frontier -- the depths of the sea. The Universe Below examines how we are illuminating its dark recesses as a wave of advanced technology quietly opens the Earth's largest and most mysterious environment.
Broad takes us on breathtaking dives and expeditions -- to the Azores, to the Titanic, to hot springs teeming with bizarre life, to icy fissures aswarm with gulper eels, vampire squids, and gelatinous beasts longer than a city bus. We meet legendary explorers and researchers and go with them as they probe the ancient mysteries of a universe that encompasses the vast majority of the Earth's habitable space and holds millions of humanity's lost artworks and treasures.
The Universe Below is an unforgettable trip to our last great unexplored frontier.
Praise For The Universe Below: Discovering the Secrets of the Deep Sea…
John Durant
The New York Times Book Review

By combining personal experience, conversations with scientists and a wide-ranging historical review, [Broad] has given us a readable and reliable guide to the last great wilderness on earth....A splendid guide to this ultimate terra incognita.


David Pawson
The Washington Post Book World

...a fascinating, beautifully written account of a truly unfamiliar world.


The New Yorker


Broad's sense of wonderment is almost always infectious.
Advertisement