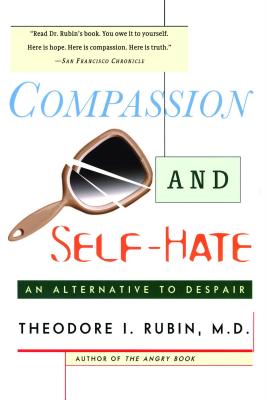 Compassion and Self Hate
An Alternative to Despair
Paperback

* Individual store prices may vary.
Description
Free yourself from destructive behavior and learn how to break your patterns of self-hate and achieve personal fulfillment with this sympathetic and practical guide from the author of The Angry Book.

Many of us know that self-destructive patterns are rooted in self-dislike, but few of us understand how to break them. In this wise and compassionate book, bestselling author and eminent psychiatrist Theodore Rubin shows us realistic ways to break these negative mental and emotional attitudes and build a strong sense of well-being and self-understanding.

Dr. Rubin looks of how self-hate begins, is sustained, and eventually leads to destructive and defeating behavior—from alcoholism and drug dependency to perfectionism and fear of failure (or success). Offering practical and reassuring advice, he shows that the key to freeing yourself from these restricting emotions and habits is to find and examine the self-hate that generates them, and then to release your innate and powerful capacity for compassion.

This warm, sympathetic, and ultimately practical guide to personal growth and fulfillment is timelier and more helpful than ever.
Touchstone, 9780684841991, 288pp.
Publication Date: April 28, 1998
About the Author
Theodore Isaac Rubin, M.D., has served as president of the American Institute of Psychoanalysis and is the author of thirty books, including The Angry Book, Lisa and David, Jordi, The Winner's Notebook, and Lisa and David Today. His books have been translated all over the world. He lives and practices psychiatry in New York City.