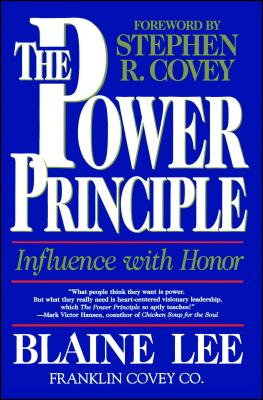 The Power Principle
Influence With Honor
Paperback

* Individual store prices may vary.
Description
The principles you live by today create the world you live in: if you change the principles you live by, you can change your world.
In the life-changing tradition of The 7 Habits of Highly Effective People, The Power Principle teaches the core principles that dramatically affect our careers and our lives. Dr. Blaine Lee, an extraordinary teacher, shows how principle-centered power is the ability to influence others' behavior, not to control, change, or manipulate it. Power is something other people feel in your presence because of what you are as well as what you can do, what you stand for, and how you live your life. When you honor others, they will honor you. Lee shows you how to overcome powerlessness, create legitimate power and influence with honor, and create a legacy that will outlast you in the lives of the people you care the most about.
Praise For The Power Principle: Influence With Honor…
Mark Victor Hansen coauthor of Chicken Soup for the Soul What people think they want is power. But what they really need is heart-centered visionary leadership which The Power Principle so aptly teaches!

Larry King I have had the privilege to interview some of the most powerful people in the world. The Power Principle teaches that power is not determined by one's name, title, or fame, but that true power is power with honor.

Ken Blanchard coauthor of The One Minute Manager and Gung Ho Profound! Lee teaches you the essence of true empowerment through understanding the hearts and minds of those you live and work with. Begin managing yourself today and others will follow you tomorrow.

John Gray author of Men Are from Mars, Women Are from Venus Whether you are from Mars or from Venus, the balance of power in your relationships requires a delicate understanding of honor, trust, and respect. The Power Principle provides a new standard for how we can build more meaningful relationships.

Stephen R. Covey author of The 7 Habits of Highly Effective People Blaine Lee is one of the greatest teachers I have ever known. He is a world expert on power, how to get it, and how to use it with honor. He will show you how to develop the power to practice the habits of highly effective people.

Archie W. Dunham President and CEO, Conoco, Inc. I wish that this book had been published when I became CEO! In The Power Principle: Influence with Honor, Blaine Lee reminds leaders that the attribute of character, which includes honor, integrity, and deep respect for others, will ultimately make the greatest impact on an organization and inspire the most people to extraordinary results.

Reverend Edward A. Malloy C.S.C., President, University of Notre Dame In a society too often focused on short-term results and gratification, we need leaders who remind us that conducting ourselves with honor, with patience, with love, and with care undoubtedly will produce relationships that bear great fruit in the long run. The Power Principle offers a workable theory of leadership and power based on principles of fundamental human decency. It holds out great hope for shaping leaders today and in the future. I applaud this insightful work and recommend it to people in every walk of life.

Frances Hesselbein President and CEO, Peter F. Drucker Foundation Dr. Lee brings us some clear principles for living a life of hope, aspiration, and service -- and for relationships that can change lives.

Philip J. Carroll President and CEO, Shell Oil Company The Power Principle sheds new light on where power comes from and how it should be used. Lee's insights are critical for those trying to lead organizational change.

Stedman Graham President and CEO, S. Graham & Associates; author of You Can Make It Happen: A Nine-Step Plan for Success Blaine Lee is a truly gifted individual who, without question, will be a major catalyst of change in people's lives. His life and his dedication to mankind (and womankind) is reflected in The Power Principle. It is a wonderful book!
Free Press, 9780684846163, 384pp.
Publication Date: June 4, 1998
About the Author
Dr. Blaine Lee is a vice president of Franklin Covey Co., the leading global provider of integrated, sustainable, professional services and product solutions based on proven principles. Franklin Covey's client portfolio includes eighty-two of the Fortune 100 companies, over two-thirds of the Fortune 500 companies, as well as thousands of small and mid-sized companies, government entities, educational institutions, communities, families, and millions of individual consumers.

Blaine has created and delivered custom leadership development programs for many world-class organizations, including: Proctor & Gamble, U.S. West, Intel, IBM, Pillsbury, General Motors, Conoco, Blue Cross/Blue Shield, Andersen Consulting, Arthur Andersen, NASA, Occidental Petroleum, MCI, Mass Mutual, Kimberly Clark, Prudential, Nabisco, Xerox, and many others.

Blaine has been a contributing author to books by Stephen R. Covey and Norman Vincent Peale, and has written college texts on teaching and organizational behavior. His teaching takes him over a third of a million miles annually. His ability to deal perceptively with difficult organizational and people problems has made him a unique advisor to senior executives in many kinds of organizations. A trainer's trainer, he is called a "Life-Coach" by leaders who claim he helps them do with their lives what athletic coaches can do with their muscles.

Blaine has been studying, teaching, and coaching successful men and women for over twenty-five years. He has been on the faculty of four colleges and universities and has twice been recognized as one of the Outstanding Young Men of America. He was the Director of Instructional Systems Development for the entire air force as a young captain. He co-founded and was Educational Director for two professional private residential schools for troubled teenagers. He created the National Speakers School, has mentored several past presidents of the National Speakers Association, and is listed in International Leaders in Achievement and Who's Who in America.

Blaine and his sweetheart, Shawny, live in a country home in the Rocky Mountains near Salt Lake City, Utah, where he relishes his time as a deliberate dad. He received his masters degree in instructional psychology from B.Y.U. in Utah and his Ph.D. in educational psychology from the University of Texas at Arlington.