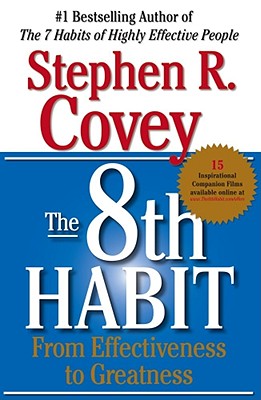 The 8th Habit: From Effectiveness to Greatness (Hardcover)
From Effectiveness to Greatness
Free Press, 9780684846651, 432pp.
Publication Date: November 9, 2004
* Individual store prices may vary.
or
Not Currently Available for Direct Purchase
Description
Profound, compelling, and stunningly timely, this groundbreaking book of next-level thinking gives a clear way to finally tap the limitless value-creation promise of the "Knowledge Worker Age." In the more than fifteen years since its publication, the classic The 7 Habits of Highly Effective People has become an international phenomenon with over fifteen million copies sold. Tens of millions of people in business, government, schools, and families, and, most important, as individuals have dramatically improved their lives and organisations by applying the principles of Stephen R. Covey's classic book. The world, though, is a vastly changed place. The challenges and complexity we all face in our relationships, families, professional lives, and communities are of an entirely new order of magnitude. Being effective as individuals and organisations is no longer merely an option -- survival in today's world requires it. But in order to thrive, innovate, excel, and lead in what Covey calls the "New Knowledge Worker Age," we must build on and move beyond effectiveness. The call of this new era in human history is for greatness; it's for fulfillment, passionate execution, and significant contribution. Accessing the higher levels of human genius and motivation in today's new reality requires a sea change in thinking: a new mind-set, a new skill-set, a new tool-set -- in short, a whole new habit. The crucial challenge of our world today is this: to find our voice and inspire others to find theirs. It is what Covey calls the 8th Habit.
So many people feel frustrated, discouraged, unappreciated, and undervalued -- with little or no sense of voice or unique contribution. The 8th Habit is the answer to the soul's yearning for greatness, the organisation's imperative for significance and superior results, and humanity's search for its "voice." Profound, compelling, and stunningly timely, this groundbreaking new book of next-level thinking gives a clear way to finally tap the limitless value-creation promise of the "Knowledge Worker Age." The 8th Habit shows how to solve such common dilemmas -People want peace of mind and good relationships, but also want to keep their lifestyle and habits. -Relationships are built on trust, but most people think more in terms of "me" my wants, my needs, my rights. -Management wants more for less; employees want more of "what's in it for me" for less time and effort. -Businesses are run by the economic rules of the marketplace; organisations are run by the cultural rules of the workplace.
-Society operates by its dominant social values, but must live with the consequences of the inviolable operation of natural laws and principles. Covey's new book will transform the way we think about ourselves and our purpose in life, about our organisations, and about humankind. Just as The 7 Habits of Highly Effective People helped us focus on effectiveness, The 8th Habit shows us the way to greatness.
Praise For The 8th Habit: From Effectiveness to Greatness…
Ken Blanchard coauthor of The One Minute Manager and Customer Mania! Steve Covey does it again with cutting-edge thinking. The 8th Habit is about finding out why you're here and helping others to do the same. Is there a nobler cause? Don't miss this book!"



Warren Bennis Distinguished Professor of Management, USC; author of On Becoming a Leader; and coauthor of Geeks and Geezers: How Era, Values, and Defining Moments Shape Leaders Covey's work has influenced millions upon millions of people worldwide. In this book, he takes a huge conceptual leap and introduces us to ideas and practices that will have a profound impact on all our lives. The 8th Habit is a marvelous read, a triumph of the spirit, and, in my view, Covey's most important work.



Kevin Rollins President and CEO, Dell, Inc. Getting results in large companies is a very rare skill and this book captures how to do it. The guidance provided here will prove invaluable for leaders who are trying to drive tighter execution in their organizations.



Horst Schulze Former President and COO of the Ritz-Carlton Hotel Company For years I have been using the 7 Habits as guiding principles in leading my business. I had to read The 8th Habit. Having done so, I am completely wowed, captured, and empowered. The 8th Habit is a true masterpiece, a must-read. These principles of personal and organizational leadership, when lived, unleash human genius and inspire deep commitment and magnificent levels of service and satisfaction. This book will be my gift to all my associates as required reading for all of my future endeavors.



Steve Forbes President and CEO of Forbes and Editor In Chief of Forbes Magazine Stephen Covey has long been a sure-footed guide to those desiring to better themselves. The 8th Habit: From Effectiveness to Greatness shows how to climb to the summit of fulfillment and achievement.



Tom Peters author of Re-Imagine!: Business Excellence in a Disruptive Age I hope Stephen writes a dozen more books. But should he not do so, The 8th Habit will clearly stand as the crowning achievement of a lifetime of service. May millions upon millions the world over read, share, and be moved to firmly grasp the reins of their lives as a result!
Advertisement