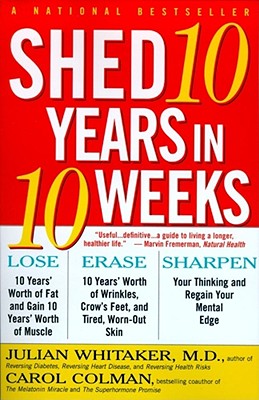 Shed 10 Years in 10 Weeks (Paperback)
Simon & Schuster, 9780684847917, 288pp.
Publication Date: January 2, 1999
* Individual store prices may vary.
Description
The Fountain of Youth is Just 10 Weeks Away!
Based on advanced scientific research and the actual experiences of thousands of Dr. Julian Whitaker's own patients, this remarkable program shows you how to strip away the wear and tear of aging. In this book, which includes a sound nutritional food plan, cutting-edge supplements, innovative skin treatments, an easy-to-follow exercise program, brain teasers, and more, Dr. Whitaker shows you how to:
lose a decade's worth of fat and regain 10 years' worth of muscle
erase fine lines, diminish wrinkles, and restore a youthful glow
boost your brain power and sharpen your memory
revitalize and enjoy your sex life into your 60s, 70s, and beyond
strengthen your immune system and prevent disease
About the Author
Julian Whitaker, M.D., is the founder of the Whitaker Wellness Institute in Newport Beach, California, and the editor of Health and Heating, the nation's leading health newsletter. The author of Reversing Diabetes, Reversing Heart Disease, and Reversing Health Risks, he lives in Southern California.
Praise For Shed 10 Years in 10 Weeks…
Marvin Fremerman Natural Health Useful...definitive...a guide to living a longer, healthier life.