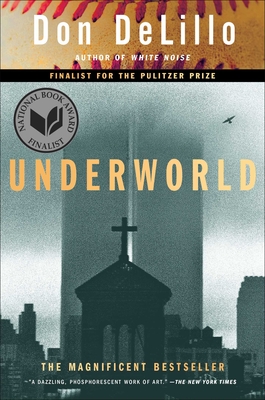 Underworld
A Novel
Paperback

* Individual store prices may vary.
Other Editions of This Title:
Digital Audiobook (3/14/2011)
Digital Audiobook (9/30/1997)
Hardcover (6/5/2007)
Paperback (3/1/2011)
Hardcover (10/3/1997)
Description
A finalist for the National Book Award, Don DeLillo's most powerful and riveting novel—"a great American novel, a masterpiece, a thrilling page-turner" (San Francisco Chronicle)—Underworld is about the second half of the twentieth century in America and about two people, an artist and an executive, whose lives intertwine in New York in the fifties and again in the nineties.

With cameo appearances by Lenny Bruce, J. Edgar Hoover, Bobby Thompson, Frank Sinatra, Jackie Gleason and Toots Shor, "this is DeLillo's most affecting novel…a dazzling, phosphorescent work of art" (Michiko Kakutani, The New York Times).
Praise For Underworld: A Novel…
"There's pleasure on evey page of this pitch-perfect evocation of a half-century."
— Malcolm Jones

"Underworld is a page-turner and a masterwork, a sublime novel and a delight to read."
— Joan Mellen

"Masterpieces teach you how to read them, and Underworld is no exception....Anastonishing piece of prose and a benchmark of twentieth-century fiction, Underworld is stunnigly beautiful in its generous humanity, locating the true power of history not in tyranny, collective political movements of history books, but inside each of us."
— Greg Burkman

Underworld is a "dazzling and prescient novel…A decade after 9/11, it's worth rereading Don DeLillo's 1997 masterpiece to appreciate how uncannily the author not only captured the surreal weirdness of life in the second half of the 20th century but also anticipated America's lurch into the terror and exigencies of the new millennium...A breathtaking set piece…the prologue is a bravura display of Mr. DeLillo's literary powers."
— Michiko Kakutani, The New York Times

"Underworld is magnificent book by an American master."
— Salman Rushdie

"The book is an aria and a wolf-whistle of our half century. It contains multitudes."
— Michael Ondaatje

"His best novel and perhaps that most elusive of creatures, a great American novel . . . . a masterpiece in which the depth and reach of the commonplace are invested with universal scope and grandeur. Underworld is also a thrilling page-turner, propelling us along with realistic characters and those compelling details that make it impossible for them—or us—to escape the past."
— David Wiegand, The San Francisco Chronicle Book Review

"In Underworld, we have a mature and hugely accomplished novelist firing on all cylinders, at the sophisticated height of his multifarious powers. Reading the book is a charged and thrilling aesthetic experience and one remembers gratefully that this is what the novel can do, and indeed does, better than any other art form—it gets the human condition, it skewers and fixes it in all its richness and squalor unlike anything else. The novel is the 'great book of life' and as long as there are human beings who are readers it will survive and, with a little luck,even flourish. Don DeLillo's Underworld is a formidably potent and hugely encouraging testimonial to this undeniable,indomitable and strangely consoling fact."
— William Boyd, London Observer

"The most personal and contemplative of DeLillo's novels . . . Underworld confirms that contemporary American fiction's most promising movement involves novels on a large social and historical scale that stretch the norms of narrative and language."
— Vince Passaro, Harper's

"Underworld surges with magisterial confidence through time and through space."
— Martin Amis, The New York Times Book Review

"This novel will make you feel lucky to be alive and reading."
— Adam Begley, New York Observer

"Magnificent . . . a miracle."
— John Leonard, The Nation

"Courageous, ingenious and demanding, Underworld is a book to be talked about . . . for years to come."
— Tom LeClair, The Atlantic Monthly

"Underworld's intellect, its view, its fabulous drama, its soul, its passion and compassion, and the beauty of the writing, just the size and generosity of it, are all of some spectacular high order. I can't imagine any writer reading it without complete admiration and a kind of gratitude, because if a book like that can be written in a culture like this, it's terrific for all of us."
— Michael Herr

"Constantly pleasing not merely for the licked-finish illusionism with which he reproduces speech, or the camera eye he brings to bear on diverse contexts, but for the ways in which the renditions of those things will depart from the known or expected."
— Luc Sante, The New York Review of Books

"Utterly extraordinary . . . in its epic ambition and accomplishment, Underworld calls out for comparison with works like those of Bely or Balzac that have defined the consciousness of their age."
— Melvin Jules Bukiet, Chicago Tribune Books

"Astonishing. A sprawling and spectacular look at a half-century in American life as seen through a series of multiple visions that come flashing into our consciousness in ways that are endlessly enlightening and awesome in their insights. DeLillo has raised literary standards to new highs here, and yet the book is a page-turner, a scene-stealer, a triumph of language that takes us everywhere we've never been."
— Gay Talese

"DeLillo understands the capacity of words to elevate us above the mundane, to establish a distance from things and a mastery over them, a power emerging from the capacity given to Adam, the ability to name."
— Steven E. Alford, Houston Chronicle

"Majestic and playful . . . amazingly light and supple for so weighty and elegiac a construction, Underworld soars like a cathedral on the audacity of DeLillo's connections."
— J. Hoberman, Harper's Bazaar

"Reading DeLillo's books bolsters out belief in the art of fiction: He catches the drift of end-of-the-century life in words, one bright shining sentence after another."
— Paul Elie, Elle

"The larger the canvas, the better DeLillo paints. He is a novelist of big themes . . . . Underworld is a tour de force."
— Geoffrey Norman, Playboy

"Precise, stark, gorgeous—something perhaps more properly termed a metaphysics of language, rendering and reflecting the mysteries of consciousness, those elusive meanings he and his character so passionately seek."
— James Held, The Philadelphia Inquirer

"DeLillo has written the first defining novel of what we are still calling the post-Cold War period."
— Thomas Mallon, GQ

"In years to come, DeLillo's novel will certainly be seen as a perfect document of our paranoid, teeming, deeply nostalgic age."
— Adam Kirsch, The Boston Phoenix

"The profundity, the intricacy, the beauty of Underworld leaves me in a state of awe. It's one of a handful of novels that will come to define our culture in this century."
— Bradford Morrow

"DeLillo's breathtaking prose transforms this otherwise bleak wastelandinto a thrilling, brilliantly illuminated landscape."
— Arthur Salm, The San Diego Union-Tribune

"For those who love eloquent prose and powerful ideas, Underworld is an eight-course meal. . .. An eye-opener, a consciousness-raising treatise on modern America by a writerin love with the power of words and the country he calls his own."
— Dorman T. Shindler, The Denver Post

"Underworld soars. Bigger andricher than anything Don DeLillo has done before, this multicharacter,time-leaping, sea-to-shining-sea dissection of Cold War American life isperilously good—so good, so strong, deep, knowing and funny, that you might betempted to read it and it alone, fanatically, the rest of your days."
— Phil Hanrahan, Milwaukee Journal Sentinel

"One of America's greatest contemporary fiction writers illuminates American Cold War life and its obsessions, weaving history and imagination into a huge and compelling tapestry."
— Donn Fry, The Seattle Times/Post Intelligencer

"Anyone who wants to try to understand an appreciate the last half-century of life in these United States can do no better than read Don DeLillo's magnificent, beautifully written and outrageously persuasive new novel, Underworld, unquestionably his masterpiece. . . . A triumphant performance."
— Sam Coale, Providence Journal-Bulletin

"Underworld, DeLillo's richest and most ambitious novel, seeks nothing less than the secret truths of modern America."
— Gary Lee Stonum, The Plain Dealer

"Magnificent . . . Underworld is the most powerful and original novel that DeLillo, one of the strongest American writers of our time, has written."
— Peter Wolfe, St. Louis Post-Dispatch

"Think of Underworld as a successor not to the great American novels of Hemingway, Faulkner and Fitzgerald, but to the Russian masterpieces of Dostoyevsky and Tolstoy. . . . Abig, multistoried, glorious, moving novel."
— Philip Gerard, The Raleigh News and Observer
Scribner, 9780684848150, 848pp.
Publication Date: July 9, 1998
About the Author
Don DeLillo is the author of seventeen novels including White Noise, Libra, Underworld, Falling Man, and Zero K. He has won the National Book Award, the PEN/Faulkner Award for Fiction, the PEN/Saul Bellow Award, the Jerusalem Prize for his complete body of work, and the William Dean Howells Medal from the American Academy of Arts and Letters. His story collection The Angel Esmeralda was a finalist for the Story Prize and the PEN/Faulkner Award for Fiction. In 2013, DeLillo was awarded the Library of Congress Prize for American Fiction, and in 2015, the National Book Foundation awarded DeLillo its Medal for Distinguished Contribution to American Letters.