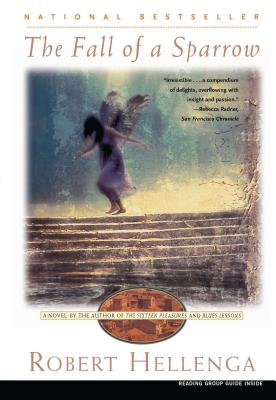 The Fall of a Sparrow (Paperback)
Scribner Book Company, 9780684850276, 464pp.
Publication Date: July 6, 1999
Other Editions of This Title:
Hardcover (7/1/1998)
* Individual store prices may vary.
Description
Robert Hellenga, bestselling author of The Sixteen Pleasures, once again reveals his profound understanding of the strength and resilience of the human spirit in a compelling and masterful novel.
Alan Woodhull ("Woody"), a classics professor at a small Midwestern college, finds himself convinced that life has taught him all the lessons he has to learn: After the tragic death of his beloved oldest daughter during a terrorist bombing in Italy seven years ago, his wife has left him and his two remaining daughters have grown up and moved away. Yet his decision to attend the trial of the terrorists and to return to the scene of the tragedy marks the beginning of a new life and the awakening of a new love.
About the Author
Robert Hellenga received his B.A. from the University of Michigan and studied at Queen's University in Belfast and the University of North Carolina before completing a Ph.D. in English Literature at Princeton University. He is a professor at Knox College in Galesburg, Illinois, and the author of the bestselling novel The Sixteen Pleasures.
Praise For The Fall of a Sparrow…
Rebecca Radner
San Francisco Chronicle Book Review

Irresistible....A compendium of delights, overflowing with insight and passion. The funny parts are absurdly hilarious, the painful ones moving and perceptive.


Frances Stead Sellers
The Washington Post Book World

Once in a while, when reality is too painful to bear, fiction can help us to explore the fragility of our human condition. The Fall of a Sparrow is such a book. With compassion and humor, it conveys a sense of certainty and ultimate faith that only the finest writing can achieve.


David Willis McCullough
The New York Times Book Review

Hellenga has a gift for nicely pointed satire and a rich, almost lavish sense of place.


Entertainment Weekly


Autumnal prose, a playful intellectual curiosity, and a decent, disillusioned, all-embracing tenderness.


Carol Field
San Jose Mercury News

There are so many fascinating stories in this astonishing book, so many characters who touch the heart, that here's my advice: Give in to the irresistible urge to keep turning the pages the first time you read The Fall of a Sparrow. Then read it again.


Frances Stead Stellers
The Washington Post

The Fall of a Sparrow conveys a sense of certainty and ultimate truth that only the finest writing can achieve. It is an extraordinary novel.


Los Angeles Times


The highest possible praise for a novel may be that it forced you to engage it, to argue, to confront it as you would a challenging but sometimes misguided lover. Robert Hellenga's The Fall of a Sparrow is such a novel.


The Boston Sunday Globe


Sprawling, complex, and multifaceted...stimulating and inspiring....This is unapologetically a novel of ideas.


Jane Hamilton
author of The Book of Ruth

Here's the new Robert Hellenga novel, as richly detailed and absorbing as The Sixteen Pleasures. You know what you need to do: Boil the tea water, get into bed, tell your dear family to go away for a few days, and begin the journey.


Kathleen Jacobs
Redbook

A richly layered novel...in spite of the novel's seriousness and its keenly felt observations about loss and mourning, there are also wonderful moments filled with humor and charm.